Posted on
Tue, Apr 6, 2010 : 1:09 p.m.
Donald Van Curler's 50-year career as architect left imprint on Ann Arbor
By Paula Gardner
Donald Van Curler's buildings fill the Ann Arbor landscape after a prolific 50-year career as an architect and developer.
During that time, Van Curler also built a reputation based on character and reputation, colleagues say of the man who could get a real estate deal done based on a handshake.
He died Sunday at St. Joseph Mercy Hospital, following complications from an earlier stroke. He was 78.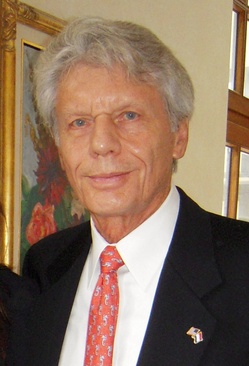 Because of his deep faith, Van Curler's death on Easter Sunday gave his family comfort, said his wife, Carol Van Curler.
"It's the best day on the Christian calendar," she said. "That made it take a little bit of the sadness off."
Van Curler came to Ann Arbor as a student in 1956 after serving in the U.S. Army, graduating from the University of Michigan School of Architecture in 1960.
He formed many lasting business relationships in that era, forging partnerships that resulted in many landmark developments in Ann Arbor and smaller infill projects.
The Campus Inn on East Huron, Hidden Valley Club Apartments off of South State and Hogback Office Center, visible from US-23 north of Washtenaw, are all Van Curler's designs.
He also had a role in projects like student housing built along Packard, an addition at the Ann Arbor District Library, the hotel on Carpenter Road that's now a Quality Inn.
And his ownership stakes in property includes vacant land across the region, the former Pretzel Bell building on East Liberty in downtown Ann Arbor with Ed Shaffran (now home to Champion House restaurant) and formerly Westgate Mall.
Van Curler sold Westgate to a partnership led by Jim Chaconas, an Ann Arbor commercial Realtor. He described Van Curler as a gentleman.
"He was just a good man," Chaconas said. "He gave back to the community … and was a man of his own convictions."
Yet while Van Curler will have a lasting impact on Ann Arbor from the buildings he helped develop, in the end they weren't important to him, his wife said. He still went to the office daily, until late February. But what really drove him, Carol Van Curler said, was his Christian faith.
And what he'd want to be remembered by, she said, "is not by the projects, not by the buildings, not by the stuff that's temporary."
Van Curler valued talking about his faith and shared publications from Coral Ridge Ministries Media. He handed out an average of 3,500 books per year over a decade, recalled Tim Moore, his administrative assistant.
"He took every opportunity to talk with people about his faith," Moore said.
Carol Van Curler said her husband also had a love of books and photography, leaving behnd tens of thousands of books and images in their Ann Arbor home. He also spent time gardening and traveling with her to their vacation home in Boca Raton, Fla.
In addition to his wife, Van Curler is survived by his dauther, Claudine Etter; a sister; a brother; and several nieces and nephews.
Visitation will be held from 2-8 p.m. Wednesday and 10-11 a.m. Thursday at Nie Family Funeral Home, 2400 Carpenter Road. A memorial service will be held at 11 a.m. Thursday at the funeral home.
Paula Gardner is Business News Director of AnnArbor.com. Contact her at 734-623-2586 or by email. Sign up for the weekly Business Review newsletter, distributed every Thursday, here.