Posted on
Fri, Oct 28, 2011 : 2:19 p.m.
Bongz, Thongz and costumes? Downtown Ann Arbor shop starts selling Halloween products, lingerie
By Lizzy Alfs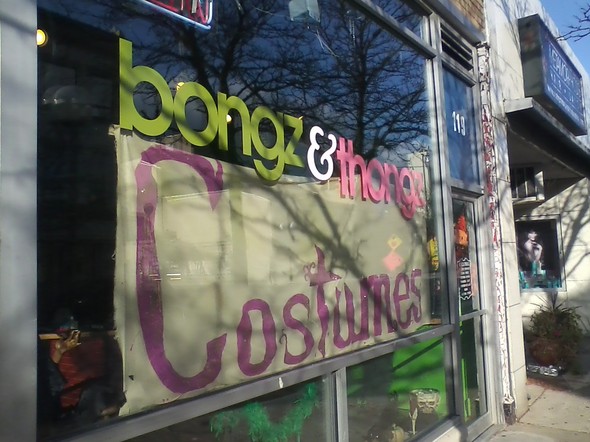 Nathan Bomey | AnnArbor.com
Downtown Ann Arbor shop
Bongz & Thongz
earlier this week opened the previously idle, basement-level adult novelties portion of its store, selling mostly Halloween costumes and lingerie.
The downstairs of the 2,600-square-foot space at 119 E. Liberty St. is now stocked with costumes, lingerie and items like personal lubricants and body lotions, said co-owner Steve Aboula.
And so far, the basement has been a hit, co-owner Kilo Hassan said.
"Everybody that comes in here is going downstairs," he said.
The store opened in September, but it had only been selling "head shop" products like smoking devices and other accessories on the first floor.
Due to a city ordinance that restricts what downtown adult entertainment businesses are allowed to sell, the owners were briefly forced to delay the opening of the shop.
The zoning ordinance does not allow the sale of "devices of simulated human genitals or devices designed for sexual stimulation" in the D1 District of downtown if they amount to more than 20 percent of a retailer's sales.
Thousands of dollars of sex toy products now sit in the basement of Bongz & Thongz, and the owners are hoping to sell them online.
"We created a website and we're going to start selling them on there soon," Hassan said.
Although the entrepreneurs had to alter their business model due to the ordinance, Hassan said sales are going "pretty well."
"Business is not bad and it's actually increasing every day," he said. "We're still trying to get it together because we're new. We're piecing it together slowly, but surely."
Hassan said they get a lot of people through the doors just browsing, but they are also starting to get repeat costumers.
"We're seeing regulars, which is beautiful," he said. "That's the whole plan."
As they move forward, Hassan said they plan to figure out what items people want to see in the store — and to start selling more locally made products.
"We're looking for very local glassblowers," he said. "We have things from all over the state and country, but we want products from right here."
Lizzy Alfs is a business reporter for AnnArbor.com. Reach her at 734-623-2584 or email her at lizzyalfs@annarbor.com. Follow her on Twitter at http://twitter.com/lizzyalfs.