Posted on
Mon, Nov 14, 2011 : 2:22 p.m.
Downtown Ann Arbor Borders property owner launches eviction proceedings against real estate firm
By Nathan Bomey
A family trust that owns a portion of the former Borders store property in downtown Ann Arbor has filed documents to proceed with the eviction of the Farmington Hills-based real estate firm that was leasing part of the store to Borders.
Agree Realty Corp., which has long controlled the Borders property at Liberty and Maynard streets through a complex land-lease deal with landlord Malcolm Properties LLC, is the target of the eviction proceedings.
Malcolm Properties filed documents with the 15th District Court claiming that Agree stopped paying rent on Aug. 31. Since then, Agree has accrued $49,085.50 in unpaid rent for September and October, according to the court filing.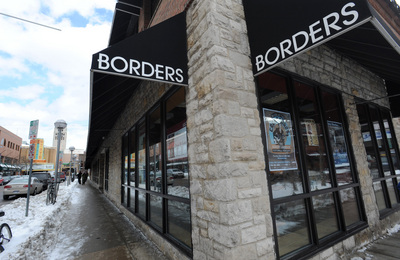 Melanie Maxwell | AnnArbor.com
Agree also has failed to pay $120,797.07 in property taxes tied to the former flagship store, which straddles 600-616 E. Liberty, 305 Maynard and 311 Maynard, according to Malcolm Properties' filing.
The relationship among Agree, Malcolm and Borders was complex. Agree also owns part of the property, which includes several legal parcels.
Adding a layer of complexity to the situation is the fact that most of the store appears to be empty, save for abandoned bookshelves and magazine racks.
An eviction notice was placed on the empty store's Liberty Street entrance in early November. A court hearing scheduled for Nov. 10 was rescheduled for 9 a.m. Nov. 17.
The future of the Borders store property is widely viewed as a linchpin in reshaping the character and vitality of downtown Ann Arbor's most expensive retail district.
Ann Arbor-based Borders Group Inc. closed its flagship store in September as part of its bankruptcy liquidation.
A real estate broker for Agree recently told AnnArbor.com that a potential tenant for the store had emerged — but no deal has been announced.
W. Daniel Troyka, an attorney with Conlin, McKenney & Philbrick who is representing Malcolm Properties, could not be reached for comment.
Oakland County attorney Mayer Morganroth, who is representing Agree Realty, also could not be reached today.
Executives for Agree Realty, which also owns Borders' former corporate headquarters building on Phoenix Drive, did not respond to requests seeking comment.
Malcolm Properties LLC is the legacy of a family trust that originally leased the former Jacobson's store to Borders in the mid-1990s. The trust — then called the Clara I. Malcolm and J. Karl Malcolm Testamentary Trust, according to the documents reviewed today by AnnArbor.com — represented about 10 different family members at the time.
Borders' original lease for the downtown property — which has about 43,000 square feet of retail space — was included in the filings reviewed by AnnArbor.com.
The lease, which lasted through 2025, spells out a rent schedule with successive increases in rent. Borders was paying Agree $24,543 a month when it filed for Chapter bankruptcy protection in February.
If Borders had stayed in business and not secured changes to its lease, it would have had to pay Agree $26,997 a month from Sept. 1, 2013 to Aug. 31, 2018, $29,697 from Sept. 1, 2018 to Aug. 31, 2023 and $32,666 from Sept. 1, 2023 to Jan. 31, 2025.
The documents did not disclose the payments from Agree to Malcolm.
Also recently, vandals sprayed graffiti on the front door to the former Borders store. One style of graffiti reads: "Make this a shelter! I'm freezing my (expletive) off *spirit Hands*" while another reads "WORD."
Contact AnnArbor.com's Nathan Bomey at (734) 623-2587 or nathanbomey@annarbor.com. You can also follow him on Twitter or subscribe to AnnArbor.com's newsletters.