Posted on
Thu, May 9, 2013 : 5:59 a.m.
Downtown Ann Arbor business owners brace for Fourth Avenue closure during construction
By Amy Biolchini
Melanie Maxwell | AnnArbor.com
Businesses on
two blocks of South Fourth Avenue
in downtown
Ann Arbor
are bracing for two months of construction that will completely close the road beginning May 14.
Ann Arbor City Council approved the $741,900 bid for construction at its meeting Monday and the project has been moving on an expedited schedule since then.
The pavement on South Fourth Avenue is in bad repair and needs to be redone, city officials say. The project will reconstruct the street, replace a water main and install a new stormwater collection system.
"I think every cyclist and driver would like to see this done," said Mayor John Hieftje.
The goal is for construction to be complete before the Ann Arbor Art Fairs start July 17, said project manager Igor Kotlyar.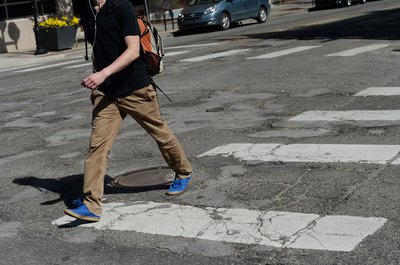 Melanie Maxwell | AnnArbor.com
"There is no time to waste," Kotlyar said.
May 14, the city will close the two-block portion of Fourth Avenue from Huron Street to Liberty Street for the duration of the project. Sidewalk access will be maintained to area businesses.
Fourth Avenue between Washington and Liberty has seen two new businesses open this spring — the bookstore Literati and the gift shop Shine — adding to the boutique shopping offerings on the street.
Shine opened in March at 211 S. Fourth Ave. Manager Kelly Hadin said she's concerned the construction will interfere with customers discovering the business.
In time, Hadin said Shine's boutique gift shop offerings will become a destination shop for customers — but in the first several months she's counting on customers stumbling upon the business.
"Now being so brand new we do count on people finding us first," Hadin said.
Ken Sing, owner of Mexican restaurant Bandito's at 216 S. Fourth Ave., said the street looks fine to him and that he's not looking forward to the project. The restaurant has been there since 1991.
"Fourth Avenue is Ann Arbor's adopted child," Sing said, calling it a forgotten corridor that rarely sees investment.
Concerned about the effect construction dust will have on outdoor seating for his customers, Sing said he'll try to keep his patio tables open for as long as he can.
"It isn't convenient — any construction is noise and dust," Kotlyar said. "All we can do is try to minimize and make sure it goes as fast as soon as possible, so people can get their street in much better condition."
Jamie Agnew, co-owner of mystery bookstore Aunt Agatha's at 213 S. Fourth Ave., said he's glad the sidewalk will remain open for the project — as closing it would be the "kiss of death" for businesses on the street.
Most of store's customers seek out the shop as a destination — but many of them are older, Agnew said. Customers will not be able to park on the street for the duration of the road closure.
"In no way is it a good thing, but I'm trying to keep a good face on for it," Agnew said.
Sam Farha, manager of Sottini's Sub Shop at 205 S. Fourth Ave., said he's also concerned about dust issues from the project, but is looking forward to the possible business that could come from the construction workers at lunchtime.
Residents in apartments on Fourth Avenue who park in alleyways inaccessible during construction will be provided a parking spot courtesy of the Ann Arbor Downtown Development Authority, city officials said.
City engineers planned to meet with Fourth Avenue business owners May 8 in a special meeting to explain the project's schedule.
"The project schedule won't be extremely tight, but will require the contractor to be well-organized," Kotlyar said. "As long as they proceed to get the work moving at a good construction speed, they should be able to get everything done and open for the art fair."
The Ann Arbor City Council moved the project forward on its agenda Monday to approve the award of the bid before going into recess. By Tuesday, crews were already marking utility lines on Fourth Avenue to move the project forward.
"This is a project many of us have been waiting for, for a long time," said Council Member Sabra Briere, D-1st Ward. "People are really eager to see this improvement."
City Council voted unanimously to award a $741,900 contract to E.T. MacKenzie Co. of Grand Ledge. The company was the lowest of four bidders and came in under the engineer's project estimate of $746,540.
Construction will replace curbs and gutters on the street, as well as curb ramps and some portions of sidewalk.
A water main on Fourth Avenue in the block between East Huron Street and East Washington Street is also in poor condition and too small. The 4-inch main will be replaced with a 320-foot-long 12-inch iron water main.
A new system to collect the stormwater will be installed under Fourth Avenue.
Rainwater that runs off the street will be collected in a stone reservoir under the street and then allowed to percolate back into the ground, rather than enter the storm sewer system.
The project is a part of the city's Capital Improvement Plan, and funding for the project has been included in its water, storm, and street millage fund budgets.
The stormwater parts of the project will be funded through the Washtenaw County Water Resources Commissioner's office.
The city will be responsible for paying the Water Resources Commissioner's office back over a 20-year period for the stormwater improvements in the project, with a maximum annual payment of $19,000.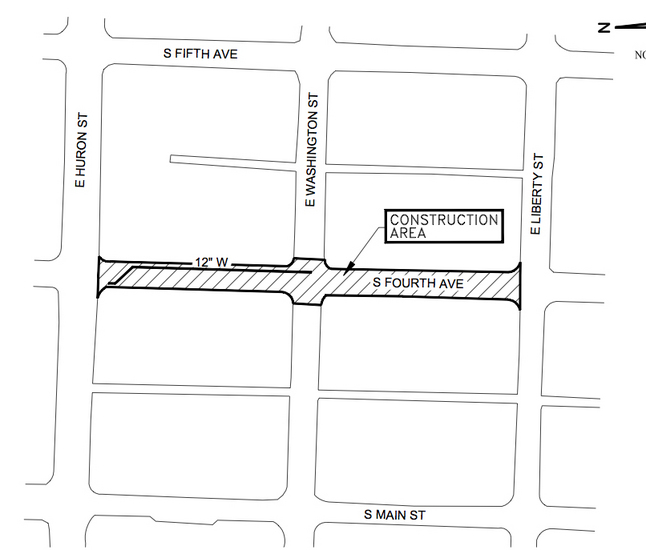 City of Ann Arbor
Amy Biolchini covers Washtenaw County, health and environmental issues for AnnArbor.com. Reach her at (734) 623-2552, amybiolchini@annarbor.com or on Twitter.