Retail report:

Downtown Ann Arbor celebrates 'Quatro de Mayo' for Friday's Midnight Madness event

Posted on Fri, May 4, 2012 : 5:56 a.m.
You'd be hard pressed to find a town that is more supportive than Ann Arbor when it comes to shopping local. Many groups and organizations hold special events to support the mom and pop businesses and young entrepreneurial startups that make our town unique. And with Ann Arbor's recent accolades as one of "America's Greatest Main Streets," maybe you need an excuse to make it downtown.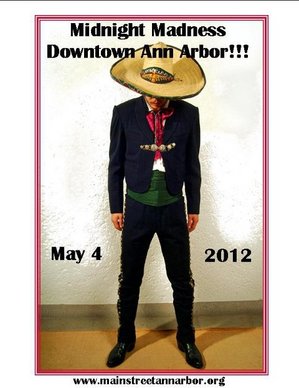 Courtesy Main Street Area Association
This weekend, the
Main Street Area Association
hosts one of its bi-annual Midnight Madness sales.
"We've been doing Midnight Madness in the spring for years, but it's never had the same momentum as the winter event for obvious reasons," says Maura Thompson of the Main Street Area Association, "it's not followed up by a major shopping season."
The association has tried all sorts of ways to pep up the downtown event, even re-naming the event to Moonlight Madness at one point. The event is always the first Friday in May, and Thompson said that this year the association made a natural connection to Cinco de Mayo, which is the following day. The website calls the sale "Quatro de Mayo."
Participating businesses will be offering sales throughout the day, but the madness begins at night, when stores stay open late, enticing late-night shoppers with themed music and snacks, lights and festivities, and of course, sales.
Abracadabra Jewelry and Gem Gallery, at 205 East Liberty Street, is offering a free jewelry appraisal all week long for customers that mention Midnight Madness. On Friday, they'll join in the festivities with chili pepper styled Mardi Gras beads and lights, and 10 percent to 50 percent discounts in store.
Co-owner Catherine Lesse says that weather is a huge factor in how busy the store will be. "We've had years when we have stayed 'til midnight and later. We really don't know what to expect; but we are always happy to take part in the festivities."
Lesse says that the sale makes for a long day as a shop owner, but that Midnight Madness is always a fun way to meet people, and see new faces in Ann Arbor's downtown. "It's nice to have businesses band together to make this a warm and inviting downtown area."
Arbor Brewing Company, at 114 E. Washington, has named its version of the celebration Drinko de Mayo. As part of Midnight Madness, the business will be featuring Mexican food specials (including fajitas), cocktail specials, a Mexican-style lager and will have live Mariachi music from 5 to 6:30 p.m.
Ballet Folklorico Moyocoyani Izel will perform on the sidewalks in the Main Street area from 7 to 8:30pm. According to the Main Street Area Association website, this dance troupe, out of Detroit, teaches the history of their culture through dance. The troupe will be performing sets highlighting traditional dance from different regions of Mexico.
For more information about participating businesses and sales at Friday's Midnight Madness, see the Main Street Area Association's website.
Angela Smith is a freelance writer for AnnArbor.com