Posted on
Sat, Jul 16, 2011 : 5:58 a.m.
Downtown Ann Arbor retailers, restaurants plan price cuts, menu changes for Ann Arbor Art Fair
By Lizzy Alfs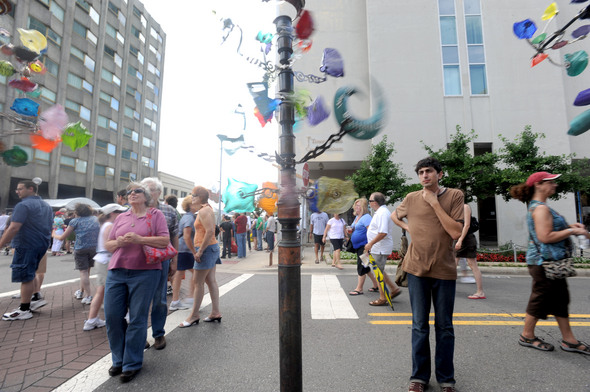 AnnArbor.com file photo
Ann Arbor restaurateurs and retailers agree that the annual
Ann Arbor Art Fair
represents a major opportunity to generate sales — but actually convincing customers to make a purchase requires a defined strategy.
The Art Fair — which takes place July 20-23 and attracts more than 500,000 attendees — raises the stakes in the competition between downtown entrepreneurs.
Some restaurants said they would shrink their menus to serve more customers, while some retailers said they would lower prices to get people in the door.
"The Art Fair is definitely a huge time of the year for local businesses," said Wendy Batiste, owner of Poshh clothing boutique on Liberty Street. "This is one of the biggest times of the year for us, and a wonderful time for us to boost our business and get ready for the fall."
To ensure that the Art Fair generates a surge in revenue, some retailers plan to entice customers by lowering prices and marketing big sales.
Chris Pawlicki, co-owner of The Ravens Club at 207 S. Main St., said he will alter the restaurant's menu and lower food prices to attract more customers.
"We are going to have a few more salads and sandwiches," said Pawlicki. "We'll have lower priced menu items for Art Fair because from what I see, people don't want to spend a whole lot of money on dining out during the fair."
Lee Coller, an employee at The Getup Vintage clothing store at 215 S. State St., said his store is renting sidewalk space for a clothing tent that will be stocked with $5 items.
"Between our $5 tent and half-off some of our jewelry, we have really intense sales," Coller said.
Laura Arbaugh, owner of the Bella Rosie Boutique, said that by renting sidewalk space and offering some sales, her shop sees a huge uptick in business during the four days of the Art Fair.
"Putting stuff outside is especially good for us because we are a lower-level shop," Arbaugh said. "It helps get a lot of people in and wandering downstairs, which is good for business."
Sava Lelcaj, owner of Sava's Restaurant at 216 South State Street, agreed that having a presence outside during the Art Fair is good for business. She said she plans to rent space on State Street for a beer garden where people can hang out and drink largely Michigan-based brews.
"I think the businesses that are more active out front typically do a lot better than the ones who have an artist in front of their shop," Lelcaj said.
For many Ann Arbor restaurants, a huge increase in customers has also resulted in reducing the number of menu items they serve during the Art Fair in order to serve larger quantities of people.
Lelcaj said she alters her menu and tries to prepare food quickly so that Art Fair-goers can get back to shopping as soon as possible.
"We shrink down our menu by about 50 percent because of the volume of people we feed all day, every day," she said. "We try to turn over food pretty quickly."
Ben Hammond, assistant manager for Good Time Charley's, said that part of serving customers quickly and decreasing wait times is making sure that the restaurant is fully staffed at all times during the Art Fair.
"We treat this just like a football Saturday," Hammond said of the restaurant, which is located at 1140 South University Avenue. "We have full staff on all day."
For first-time Art Fair retailers at Mark's Carts, part of drawing in crowds to the food courtyard behind Downtown Home and Garden involves scheduling entertainment events for the 2,700-square-foot parcel of land off East Washington Street.
Phillis Engelbert, co-owner of The Lunch Room vegan food cart, said there will be live music in the courtyard from 12-2 p.m. and 5-9 p.m. all four days of the Art Fair. There will also be large pieces of art lining the courtyard fence.
"We're trying to create a massive crowd here during Art Fair," Engelbert said. "We are doing everything we can from a music stage, teen artists, coupons and giveaways. If everything comes together right, we could make a month's worth of sales in just those four days."
Lizzy Alfs is a business reporter for AnnArbor.com. Reach her at 734-623-2584 or email her at lizzyalfs@annarbor.com. Follow her on Twitter at http://twitter.com/lizzyalfs.