Posted on
Thu, Mar 1, 2012 : 5:58 a.m.
Downtown Ann Arbor software firm LLamasoft adds 50 employees
By Nathan Bomey
Ann Arbor-based LLamasoft Inc. doubled its work force in 2011, making the supply chain software firm one of the largest independently owned software companies in the area.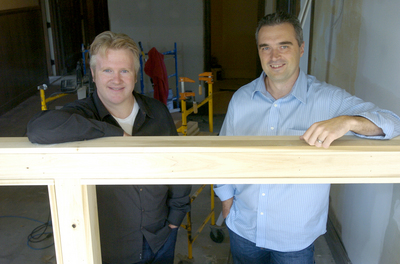 File photo | AnnArbor.com
The company hired about 50 new employees last year while experiencing 80 percent revenue growth, said executive vice president
Toby Brzoznowski
.
Today, the company has about 100 employees — including 70 in downtown Ann Arbor — and is seeking an influx of venture capital to sustain the pace of its growth.
LLamasoft leases about 7,800 square feet on the third and fourth floors of First Martin Corp.'s historic First National building at the corner of Washington and Main streets in downtown Ann Arbor.
After running out of space, the company recently signed a lease with Tinnin Investments for about 2,800 square feet of office space on the second floor of the East Liberty Street building that houses Cafe Japon.
That office is being used as overflow space to support the company's growth, but Brzoznowski said it's not a permanent solution.
"We love this building, we love this space — other people love it, too, that's the problem," Brzoznowski said of the First National building. "Basically we bought ourselves another 12 months by migrating next door. At that point, we'll have to figure out what's next because we're not really slowing down our growth."
The company has experienced an intense wave of interest in its supply chain management and design software and consulting — a package of services that appeals to many major corporate partners. LLamasoft's customers include global companies like Nike and Unilever.
"This particular market is growing and increasing in relevance, and we just happen to be in the right place at the right time and perceived as the leaders in the space — and to lead, we've got to innovate," Brzoznowski said.
For LLamasoft, that has meant a significant investment in research and development, including software developers, user interface developers, testers and quality assurance leaders.
The company also hired 10 PhD "operations research" experts to expand the capabilities of LLamasoft's technology, which helps companies design, upgrade and monitor their supply chains.
"That's not a low-cost investment," Brzoznowski said. "But these guys are the ones that do all the math behind the software and that's what gives us the competitive advantage. Anybody can create a user interface — but it's the math underneath. These guys are really pushing the boundaries of what can be modeled."
LLamasoft — which now has offices in the United Kingdom, Colombia, South Africa, Shanghai, Boston and Atlanta — is projecting revenue growth of at least 60 percent in 2012. The company's already topped $10 million in revenue.
Brzoznowski said demand from international clients is expected to fuel much of the company's growth. The company recently secured a deal with a large bottled water company in China, has identified revenue opportunities in Europe and views Brazil as an obvious growth spot because of complex tax laws.
CEO Don Hicks said the company is now seeking outside investment to continue expanding its services and hiring new employees. It would be the first venture capital investment for the 14-year-old company.
"We don't have to take it to survive, but we do see an opportunity to sustain the growth," Hicks said.
He hinted that the company has gotten traction in its hunt for investors.
"The venture community here in town has been very hungry for a company that actually sells things and makes things," Hicks said.
LLamasoft's momentum is breeding success, too. Since the company has established relationships with major global brands, it is now well positioned to identify new opportunities to develop products and services — because it can see what its clients need.
Among the opportunities is "data visualization" — leveraging massive amounts of supply chain data to deliver customized data analysis.
"There's just more and more data within companies now," Brzoznowski said. "You've got to be able to act on it, gather data from enterprise sources, visualize what's there and migrate that into your modeling platform."
Contact AnnArbor.com's Nathan Bomey at (734) 623-2587 or nathanbomey@annarbor.com. You can also follow him on Twitter or subscribe to AnnArbor.com's newsletters.