Holiday '09:

Downtown Ann Arbor's Midnight Madness kicks off holiday shopping season

Posted on Thu, Dec 3, 2009 : 5:20 a.m.
For one night each year, downtown Ann Arbor shines brighter than Rudolph's red nose: From South University to Main Street, Â a canopy of twinkling lights setting the stage for Victorian carolers, a strolling Santa, jugglers, a saxophonist and other entertainment.
Midnight Madness is downtown's kickoff to the holiday season, building event-driven traffic that organizers say should add shopping to visitors' other experiences of spending time there.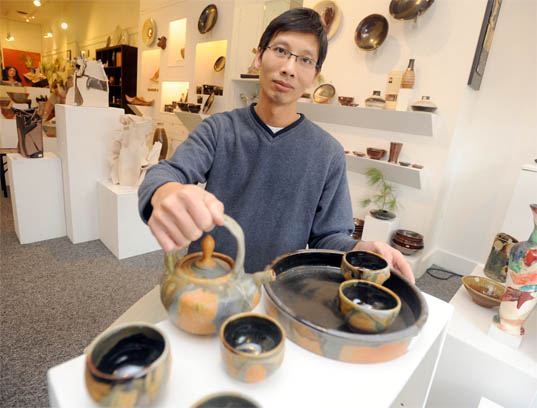 Lon Horwedel | AnnArbor.com
Many stores will stay open until midnight Dec. 4, offering sales and warm comfort, such as free tea at the Clay Gallery on South Main Street.
New this year will be Kerrytown District's Association event within an event: Kindle Fest will take its cue from European tradition and turn the Farmers' Market area into a holiday bazaar during Midnight Madness with artists, farmers food vendors.
And while Midnight Madness draws a big crowd throughout downtown, the night isn't necessarily a bellwether for the coming shopping season, said Monica Wilson, events coordinator for the Clay Gallery, a consortium of 23 clay artists.
"It's about developing relationships between customers and shopkeepers," she said. "People aren't necessarily buying that night, it's more about getting ideas. It's about developing a relationship so they will come back when they are ready to shop."
Holiday shopping can no longer be viewed as the saving grace for downtown shopkeepers, said Tom Heywood, executive director of the State Street Area Association.
"Shopping downtown has changed a lot over the past 10 years," he said. "It's not as much a destination point."
Midnight Madness, he said, is a tool to draw shoppers back to the area, but it's not the biggest day for downtown.
"Art Fair is much bigger and, for the holidays, the weekend before (University of Michigan) students go home is bigger than Midnight Madness," Heywood said.
Still, Midnight Madness is important and his association foots the bill for strolling carolers and a strolling Santa who hands out candy canes. "You just don't want to put all your eggs in one basket," Heywood said.
The four downtown neighborhood associations - the Main Street Area Association, the South University Area Association, the State Street Area Association and the Kerrytown District Association - each organize their own Midnight Madness.
It's become part of the fabric of Ann Arbor, said Maura Thomson, executive director of the Main Street association.
"It dates me, and I've been here 10 years," she said. "Midnight Madness is one of those events that's engrained. It's the first Friday in December. It has its own legs."
It's a way to spotlight what downtown has to offer, she said.
"It separates the experience you get when you go to the mall," Thompson said. "It shows the unique identify that downtown has. It brings light to how the downtown shopping experience is different from the mall shopping experience."
For its part, the Main Street association provides sidewalk entertainment, including a cappella groups and a juggler, along with Santa and Santa's mailbox on East Liberty Street. The results of the window display contest will also be announced. Midnight Madness is followed by two Festive Fridays, where there will be street entertainment Dec. 11 and 18.
Kerrytown's Kindle Fest will see flaps hung around the market area and burning fire pits to keep the area warm, said Deanna Relyea, president of the Kerrytown association. A trail of lighted bags will run down Fourth Avenue to the Kindle Fest, where there will be strolling musicians, a Klezmer band, mulled wine, s'mores and more. Kerrytown shops will also be open. "It's what we're doing to attract people to our area," Relyea said.
It's another entry into Kerrytown's growing list of festivals, including the EdgeFest, OutFest, Homegrown Festival and Nash Bash, Relyea said.
"We want a few signature events that say 'Kerrytown.' The Kindle Fest is very European, very small town and historic."
It will include the Kerrytown shops along with businesses south of the market. It will run from 6-10 p.m.
After a difficult year for everyone, including retailers, it's time for some holiday cheer, Relyea said. "I think people are ready for a good time, some warmth and some cheer."