Downtown Ann Arbor restaurant Cafe Japon renews lease, expands menu
Posted on Sat, May 28, 2011 : 5:58 a.m.
Cafe Japon, a restaurant and bakery located at 113 E. Liberty St. in downtown Ann Arbor, recently renewed its lease and expanded its menu.
Although the space was placed on the leasing market a few months ago, owner Miyoko Honma said she ultimately decided to renew the lease at her current location, which she has occupied for four years. Deb Pearson, agent for Bluestone Realty Advisors, said in a previous report that there was interest in the space from other restaurants while it was on the market.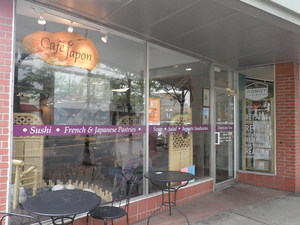 Lizzy Alfs | AnnArbor.com
"I will not be moving and I will continue to offer my product to the customers, Honma said.
Asking annual rent is $28 per square foot plus taxes and insurance, according to a previous report. The space has 1,400 square feet and has seating for about 20 people.
Honma said she debated renewing her lease because she wants to eventually expand her business.
"This place is a little small for us," Honma said. "We were looking at different venues."
Now that she decided to renew, Honma said that she is expanding her menu to include a wider range of options at her restaurant, which specializes in Japanese and French cuisine.
"We will be introducing more interesting stuff," Honma said. "We're making puff pastries and adding comfort food like Spaghetti Bolognese."