Posted on
Fri, May 6, 2011 : 12:34 p.m.
DTE Energy eliminates subsidies for new solar panel installations owned by residents, businesses
By Nathan Bomey
DTE Energy is stopping the flow of subsidies that helped offset the cost of installing solar panels at Michigan homes and businesses.
The owner of one Ann Arbor area solar panel installer, Sunventrix LLC, said that DTE's decision to end subsidies for new photovoltaic installations will result in fewer jobs for solar panel installers, electrical workers and contractors.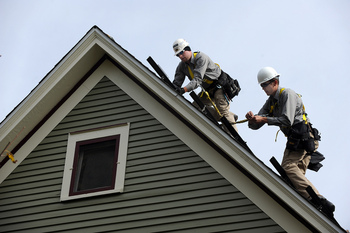 File photo | AnnArbor.com
Mark Hildebrandt, owner of Sunventrix, said that 100 percent of his photovoltaic installation customers — residents and businesses — applied for subsidies from DTE's SolarCurrents program.
"The sad part is that it created so many jobs in Michigan," Hildebrandt said. "This is all going to change quite dramatically because every installer who was working with this program had lots of opportunities to sell solar.
"Sure, there will be people who are doing it for environmental reasons and they just want to do it to feel good, etc. But the financial reason is not as good as it used to be."
DTE said in a news release this morning that it would end the SolarCurrents subsidies for new residential and commercial customers. Customers that already have installed panels and received subsidies or filed applications by Wednesday will continue to receive them.
The decision is also sure to boost the cost of installing solar panels. When DTE launched the SolarCurrents program in September 2009, it said that the subsidies would reduce the cost of installing solar panels by "50 percent or more."
The Detroit-based utility said today it had hit the 5-megawatt goal for solar installations, a target set when the company launched the SolarCurrents program. DTE spent about $25 million on incentives to help customers do about 500 installations.
"The SolarCurrents program demonstrated that financial incentives can spur significant growth and interest in an emerging renewable technology," said Trevor Lauer, DTE Energy's vice president of marketing and renewables," in a statement. "We are proud of the role this program has played in helping Michigan's solar industry transition to become a viable and growing industry within our state."
DTE spokesman Scott Simons, in an interview, acknowledged that the end of the subsidies "could have some kind of impact" on solar panel installers.
"But we're pretty confident that people will be continue to be interested in installing solar panels even without the incentives," he said. "This was a way for the industry to have a little jump start. We feel that that's been accomplished."
As part of the SolarCurrents program, DTE offered upfront payments to customers who installed solar panels at their homes or businesses. It also offered additional subsidies over the course of the next 20 years based on the power generating capacity of the system — and those subsidies will continue for existing customers.
Customers with solar panels are still eligible to participate in the state's net metering program, which allows owners to sell excess renewable electricity back to utilities. And new customers are still eligible for the federal government's tax credit for new solar panel installations.
But Hildebrandt said he's concerned that prospective customers will be turned off by DTE's decision to drop the subsidies.
"The unfortunate side of things was that the people you were just starting to talk with were really excited about it," Hildebrandt said. "A lot of people were interested in this."
Hildebrandt said he was particularly disappointed because he didn't expect the SolarCurrents program's 5-megawatt cap to expire for several years.
"Everyone was expecting it to last longer and all of a sudden, pow, it's gone," he said. "It was such a wonderful program."
DTE said it plans to continue the SolarCurrents program for utility-owned solar panel installations, a segment that's capped at 15 megawatts.
Altogether, the 20 megawatts of power DTE is subsidizing through the SolarCurrents program will help the utility meet Michigan's Renewable Portfolio Standard, which requires that utilities get 10 percent of their electricity from renewable sources by 2015. DTE needs to generate about 1,200 megawatts of renewable power, most of which will come from wind turbines.
In Ann Arbor, several businesses and residents have taken advantage of the program. Ann Arbor-based real estate firm McKinley Inc. and search engine giant Google are collaborating to install a 20kwh system on the top of the McKinley Towne Centre in downtown Ann Arbor.
Sunventrix, which uses subcontractors to handle the sporadic nature of the solar panel installation industry, is installing the McKinley Towne Centre's photovoltaic system.
That system is among the last installations that will qualify for the SolarCurrents subsidies.
"I don't think DTE understands the impact of this program from a goodwill perspective but also from a revenue perspective and all the job creation," Hildebrandt said.
A representative from the Michigan Public Service Commission could not be immediately reached for comment.
Contact AnnArbor.com's Nathan Bomey at (734) 623-2587 or nathanbomey@annarbor.com. You can also follow him on Twitter or subscribe to AnnArbor.com's newsletters.