Posted on
Thu, May 13, 2010 : 1:57 p.m.
Investment in education would reverse U.S. manufacturing contraction, experts say at University of Michigan
By Nathan Bomey
National engineering experts said today at the University of Michigan that the U.S. needs to foster a more educated workforce that can ultimately persuade companies not to offshore production.
The engineers and industry leaders are gathered for the National Academy of Engineering conference to discuss ideas for saving America's manufacturing sector.
Sridhar Kota, assistant director for advanced manufacturing for the White House Office of Science and Technology Policy, said tax incentives are not enough to preserve the country's manufacturing heritage. The U.S. must maintain a skilled advanced manufacturing workforce and vibrant industry supply chains, he said.
"You can reduce the taxes to zero, but you still won't be able to make it because there's no infrastructure or knowledge base to produce it here," said Kota, a U-M engineering professor.
National Academy of Engineering President Charles Vest, former president of the Massachusetts Institute of Technology and former dean of U-M's College of Engineering, said that when U.S. companies offshore labor, technology clusters gradually form in those foreign markets.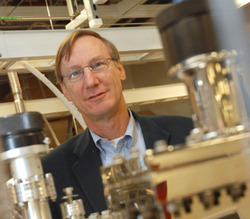 File photo | AnnArbor.com
"We've moved into an era in which innovation and manufacturing are now interrelated," Vest said. "Innovation and manufacturing begin to interact, so when you move manufacturing overseas, expertise begins to build and the next thing you know, the innovation begins to happen there."
Vest said the U.S. needs to develop new skills in operations engineering and sustainability sectors to revitalize its manufacturing sector. But the U.S. "remains the most innovative country on the planet," Vest said.
That innovation is often quickly shipped overseas, however. In the mid-1990s, for example, the U.S. had a 45 percent market share in solar panel production, Vest said. Today, that figure has slipped below 10 percent.
"To live well, a nation must produce well," Vest said, reciting the oft-quoted conclusion of an MIT report from 1990. "Is this still true today? I believe it is."
Stephen Forrest, U-M's vice president for research, said America is "not too big to fail."
"All our economic advantages we have in this country are temporary. We still are an economic engine for the world. We have many innovations and ideas. Well, there are other countries that do that, too," Forrest said. "We have ideas, we have capital and we have tolerance for failure. Tolerance for failure is a really important thing because it means you're encouraged to take chances, and if you fail, it's OK."
Despite that entrepreneurial attitude, Forrest said a lack of political commitment to education, particularly within Michigan, was concerning.
"Where do they want to spend their money? It isn't in education," Forrest said. "We have to struggle with that rather grim piece of information and still succeed. To move on from our current status, we should be investing heavily in education."
Contact AnnArbor.com's Nathan Bomey at (734) 623-2587 or nathanbomey@annarbor.com. You can also follow him on Twitter or subscribe to AnnArbor.com's newsletters.