Posted on
Mon, Nov 22, 2010 : 6:04 p.m.
Encore Recordings says farewell to Carmen, the store's mascot for 15 years
By Paula Gardner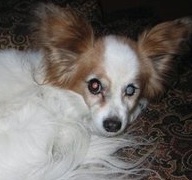 Source: Facebook
Carmen, the store mascot of Encore Recordings, died over the weekend at the age of 15.
Since then, Peter Dale, the owner of both the East Liberty record store and the popular Papillion, has been answering questions from customers who join him in grieving for the dog whose personality was a part of the store for her lifetime.
"Carmen was a very popular fixture here," Dale said. "We always had quite a few people who came in to see her. Not shoppers, just fans of the dog."
They brought her treats, and she rewarded the gifts with shows of affection: A paw on the knee, or a jump into their lap.
Some people showed up just to walk the dog.
Carmen's reach also extended to other store owners. Jules Van Dyck-Dobos, owner of Le Dog, would send hot dogs over for her. Vicki Honeyman, owner of Heavenly Metal, was so inspired by Carmen that she adopted from the same breed: Papillon, a toy Spaniel.
"Carmen was a special dog," Dale said. "Super affectionate, super smart. And cute.
"She was a wonderful mascot for the store."
Carmen made the trip to the store 5 days a week with Dale, staying home on Saturdays with Chris Hench, Dale's wife.
Carmen joined the couple's family as a puppy when Dale presented her as a Christmas gift to Hench.
And her trips to the store began shortly afterwards.
Fifteen years later, she was starting to show her age, Dale said. She was sleeping most of the time. She was blind and deaf, and suffered from some arthritis.
Dale and Hench "decided it was time," he said, "so we had her put down."
Her passing was marked on Monday with a special display in the front window, including a T-shirt bearing her familiar image.
Coming to work without Carmen was difficult, Dale said. But he's convinced that they did the right thing by not allowing her to suffer.
"It's hard to do," he said, "but you realize you have to."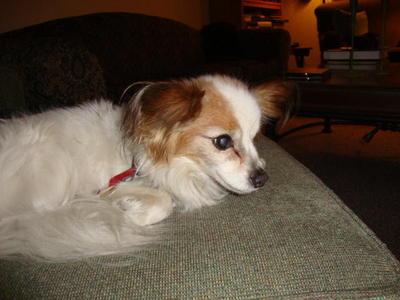 Paula Gardner is Business News Director of AnnArbor.com. Contact her at 734-623-2586 or by email. Sign up for the weekly Business Review newsletter, distributed every Thursday, here.