Posted on
Mon, Mar 5, 2012 : 5:56 a.m.
Energized: ArborMotion becomes site of largest private solar panel project in Washtenaw County
By Janet Miller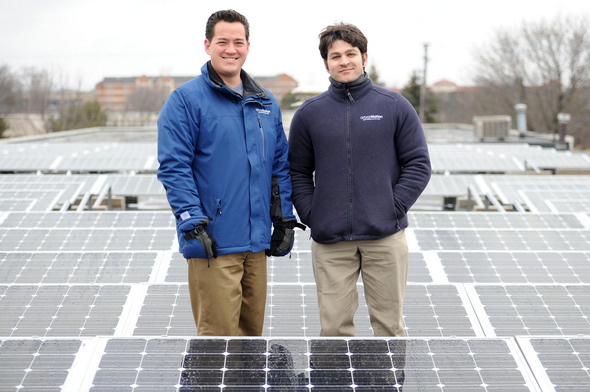 Angela J. Cesere | AnnArbor.com
ArborMotion, the umbrella for six car care companies that include longtime Swedish Engineering, last week became the site of the area's largest privately owned system of solar panels in Washtenaw County.
The 32-kilowatt rooftop solar panel system, which includes 124 U.S.-made panels, went live Wednesday and is expected to reduce ArborMotion's energy costs at its 23,000-square-foot facility on State Circle by between 50 percent to 75 percent. Only DTE's Energy's solar panel installation on Scio Church and Wagner roads is larger. That is a 60 kilowatt system, but it is not privately owned.
While investing in the $178,400 solar panel system seemed frightening at first, the risk diminished as he learned more, said James Snider, an owner and the general manager of ArborMotion.
"A lot of it was an education process. I liked the concept, but I wasn't familiar with how it worked. I had to understand the risk involved for the business. I wanted to make sure there was a high degree of likelihood it would function the way they said it would."
Incentive programs from DTE, along with federal grants, made the project not only financially possible but it is ultimately expected to become profitable, Snider said.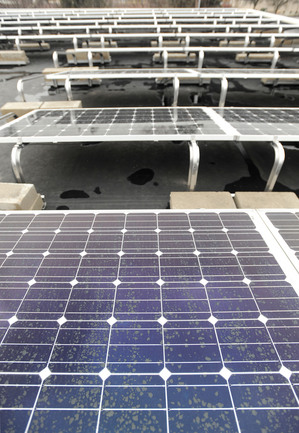 Angela J. Cesere | AnnArbor.com
DTE's $25 million Solar Currents incentive program, plus a federal grant covered two-thirds of the costs once the system went operational. A bank loan covered the rest.
The money saved from reduced energy costs will cover the bank loan and, at the same time, DTE will be making monthly credits to ArborMotion, called renewable energy credits (RECs). Once the loan is paid off in less than six years, Snider said, the REC payments will continue.
The RECs will be paid for a total of 20 years, said Dave Friedrichs, managing member of Homeland Builders Group, the Ann Arbor-based company that was general contractor for the project. The RECs help move DTE closer to the state Legislature requirement that DTE produce at least 10 percent of its energy from renewable sources by 2015, Friedrichs said. "It's the best incentive program in the country."
The solar panels are expected to contribute close to 37,000 kilowatt hours of power to the service center's load annually.
Homeland Builders have installed about a half-dozen commercial solar panel systems in Ann Arbor, including at the First Unitarian-Universalist Church on Ann Arbor-Saline Road and at the downtown offices of a law office.
While Friedrichs called the incentive offer, which has now expired, a "no brainer," Snider said he wasn't sure at first. "There was the risk of the unknown. This is something I'd never done before," he said. "Then I said 'Solar panels in Michigan? Does that really work?" I found out even with cloud cover, solar comes through," Snider said.
Homeland Builders Group began construction of the system in December, Friedrichs, said. The system covers about 6,000 square feet of the roof.
While solar incentives have expired, at least for now, they are being more affordable on their own, Friedrichs said. The price of crystalline silicon, used to make the panels, continues to fall, he said.
The solar panel installation fits in with the ArborMotion's brand, Snider said. ArborMotion includes six divisions, including a detailing shop, Asian import car repair and Rennstatt Racing. The company has pursued other green initiatives, including a hybrid shuttle service and installation of a heating system almost entirely fueled by waste motor oil.
"I absolutely believe in protecting the environment we live in, but I'm not in favor of how people use it as a marketing gimmick," he said. "We use it more as a retention strategy to make us sustainable. Our customers, for instance, appreciate knowing their oil isn't going to the landfill. These things are important to my customers."