datebook:

Energy forum on solar energy, and more

Posted on Thu, Feb 7, 2013 : 5:03 a.m.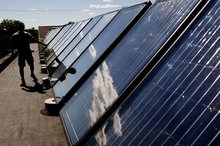 AnnArbor.com file photo
Datebook is your source for information about important business events going on in the greater Ann Arbor area.
• Today: Michigan Energy Forum - Solar, Not Just A Passing Fad. 5-7 p.m. SPARK Central, 330 E. Liberty, Ann Arbor. Get the latest insights and trends in the Solar industry from an expert panel including Rachel Tronstein, former deputy director of the Sun Shot Initiative, U.S. Department of Energy; Skip Pruss, former director of the Michigan Department of Energy, Labor and Economic Growth; and Dave Strand COO of Ovshinsky Solar LLC. Free. More information, including instructions on how to watch a live webcast: http://www.annarborusa.org/events/details?e=11743.