Posted on
Wed, Jul 24, 2013 : 11:12 a.m.
U-M entrepreneurship institute selects professor with global experience as new executive director
By Ben Freed
The Ross School of Business announced Monday that Stewart Thornhill will take over in September as the executive director of the Zell Lurie Institute for Entrepreneurial Studies.
Before coming to the University of Michigan, Thornhill was involved in developing entrepreneurship in academic settings across the globe.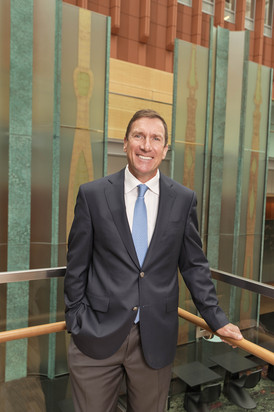 Courtesy University of Michigan
He has lectured as an adjunct as a professor in Germany, Slovenia and France, was a chair in entrepreneurship at the Universidad de San Andreas in Argentina and, most recently, was the director of the
Pierre L. Morrissette Institute for Entrepreneurship
at the
Ivey Business School
at
Western University
in London, Ontario.
As part of his work as chair of the entrepreneurship institute at Western University, Thornhill also directs the QuantumShift executive development program that works with high-growth entrepreneurs.
Outgoing director Tom Kinnear said that he was extremely pleased with the school's selection for his successor.
"He is really first rate and will bring great things to the institute," he said.
"The hard part was shaking him loose from where he was. We are very fortunate to have him."
Kinnear, who helped found the institute in 1999 and has been its only executive director, said that he felt the timing was right for a change in leadership.
"I wanted to do the transition now while everything was in good shape so there's no crisis going on," Kinnear said.
"It felt like a good time after 14 years to bring in new ideas and perspectives. It was also important for someone to takes over in a stable situation where they can build off of the strong foundation."
In a press release from the University of Michigan, Thornhill said that the prestige of the institute, which ranked No. 2 in the nation among graduate entrepreneurship programs, according to Entrepreneur Magazine and the Princeton Review, was a major draw.
"The Zell Lurie Institute is an incredible institution and highly respected as the premier location for the very best entrepreneurial learning," he said in a statement.
"I am excited to be a part of it and know that becoming its executive director is an incredible opportunity. I'm eager to continue the tremendous efforts of Tom Kinnear and others at the Institute who have created an action-based approach to teaching entrepreneurship that is unmatched anywhere else in the world."
The 'action-based' approach has led to the formation and development of the two programs that Kinnear said he is most proud of overseeing as director of the institute.
"We have two fantastic programs that I think anyone who works here would say are the top of what we do," he said.
"On the company-building side we have the Dare to Dream program, and on the financing side we have our three venture funds."
The Dare to Dream program provides students with small amounts of capital to explore potential business ideas and then provides larger grants and office space if those ideas come to fruition. Kinnear said the program is unique in offering the money without taking an equity stake in the students' companies.
"Unlike a lot of other schools, we don't take a piece of their business because we think that would be a conflict of interest," he said. "We're all about the students and helping them get their companies off of the ground."
The three venture funds operated by students in the ZLI are similarly unique. The institute is home to the $5.5 million Wolverine Venture Fund, which invests in companies alongside established venture capital firms, and two smaller funds that invest in early stage and socially beneficial companies.
"I get calls every other week from schools trying to start funds, mostly like our Wolverine Venture Fund, but nobody has all three like we do," Kinnear said. "We just have great students who want to be a part of this, great staff to assist them and fantastic donors that make it possible with their funding."
Kinnear will remain at the university as a professor of business administration and marketing and will also continue his involvement in the university's Office of Technology Transfer.
"It's just a great time to transition to someone who will come up with things I never could have even dreamed of and make the institute even better," he said. "This is a happy moment for me, even though it's bittersweet."
The appointment came on the same day that U-M Center for Entrepreneurship, housed in the College of Engineering, announced that entrepreneur Tom Frank will take over as its executive director before the end of July.
Ben Freed covers business for AnnArbor.com. You can sign up here to receive Business Review updates every week. Get in touch with Ben at 734-623-2528 or email him at benfreed@annarbor.com. Follow him on twitter @BFreedinA2