Posted on
Thu, Feb 7, 2013 : 5:58 a.m.
Ex-A123 Systems office in Ann Arbor set to double in size
By Ben Freed
In January, Chicago-based Navitas Systems purchased A123 Systems' research and development center at at 3850 Research Park Drive in Ann Arbor for $2.2 million, and immediately made plans to invest.
Les Alexander, formerly chief operating officer of A123 Systems and now general manager of the new "Navitas Advanced Solutions Group," said the center, currently 22,000 square feet housing 40 employees, will likely double in both size and staffing within the next year.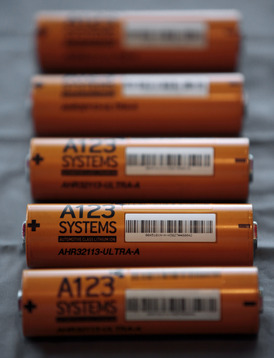 AP Photo/Paul Sancya
"We'll be looking at hiring on both the engineering side, and the science and chemistry side," he said. "So chemical engineers, material scientists, and all of the engineering disciplines, mechanical, electrical and others."
Most of A123 Systems' assets were sold to Chinese-owned Wanxiang through bankruptcy proceedings. However, the Ann Arbor facility had done most of A123's government work, including developing technologies for new battery packs to be used by United States soldiers. The sensitive nature of the research made it unlikely that the office would be included in a deal to a foreign investor.
Alexander said the office is in the process of transferring the government contracts to Navitas and will continue to work on them.
Navitas Systems vice president Tom Golab said the newly acquired engineering and chemistry capabilities will complement the company's current abilities.
"Our experience has been in the packaging side of energy solutions delivery. We were cell agnostic meaning that we could use any cells and we would do the assembly work to package them in a way that our customer could use it," he said.
"The area we felt we were missing, and that our customers were interested in, was in the research and development side. This was a tremendous opportunity for us to partner with Les [Alexander] and his team."
Alexander said the new ownership will allow the former A123 office to branch out into more commercial and industrial work in addition to its government contracts.
"We are going to cross pollinate our focus on delivery with Les' group's focus on research," Golab said.
"This will offer the Ann Arbor office an opportunity to deliver a broader array of services to their existing customers. Instead of being able to deliver prototypes, they will now be able to deliver fully functional battery systems."
Alexander said it has not been determined whether Navitas will expand their existing offices located off of South State Street or look for a new location. He stressed that they are not considering leaving the Ann Arbor area.
"We are exploring all of our options, we want to have room for continued growth," he said.
"Our ultimate goal is to have manufacturing capability. We want to build the team and the space with the ultimate focus to go to low- to mid-volume applications and add manufacturing."
Golab said in an email that Navitas has not contacted Ann Arbor SPARK or the Michigan Economic Development Corp. about potential growth incentives but that it is part of the expansion plan.
Almost 20 engineers at the office have been working on lithium ion battery technology in Ann Arbor since Maria and Levi Thompson were running University of Michigan spinoff T/J Technologies. A123 Systems acquired the company in 2006.
Ben Freed covers business for AnnArbor.com. You can sign up here to receive Business Review updates every week. Reach out to Ben at 734-623-2528 or email him at benfreed@annarbor.com. Follow him on twitter @BFreedinA2