Posted on
Tue, May 8, 2012 : 7:41 p.m.
Ex-Greek church on North Main headed to tax foreclosure auction
By Paula Gardner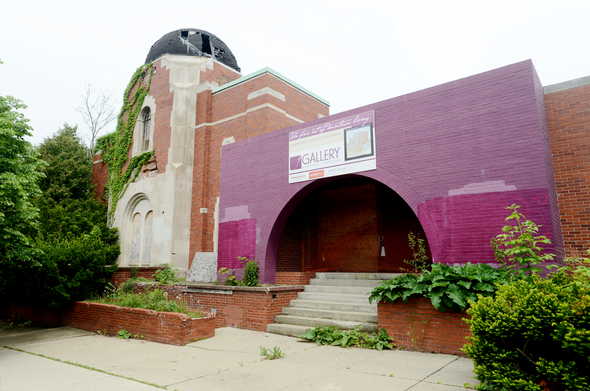 Melanie Maxwel | AnnArbor.com
Once planned for a $67 milliondowntown condo high-rise and more recently targeted by city officials concerned about blight, the former Greek Church on Ann Arbor's North Main Street now is scheduled to be sold for back taxes.
The property - located at 414 N. Main - underwent tax foreclosure after the owners and lender Huntington Bank failed to pay back taxes by the March 31 deadline, said Washtenaw County Treasurer Catherine McClary.
"(Huntington's) lien is extinguished," McClary said, adding that the bank retained its right to the property in 2011 when it paid the back taxes and avoided the tax foreclosure.
The back taxes owed on the former church and three additional parcels that comprised the land that once was planned for The Gallery, a mixed-use development total about $255,000, McClary said.
That would be the starting bid by the time the county's annual tax foreclosure auction starts on July 17.
However, McClary said, the city of Ann Arbor will have an opportunity to acquire it before it goes to to public auction "if they have a public purpose (for it)," McClary said.
The property had been owned by North Main/Fourth Ventures LLC, which acquired it in 2005 for $2.35 million, according to city records.
The ownership group, led by managing partner Michael Concannon, planned to build The Gallery condo high-rise on the part of the property that fronts North Main. The 11-story high-rise was to have 95 condos, ground-floor retail space, a floor of offices and 213 underground parking spaces. A four-story building with retail and 18 apartments was planed for the portion of the property that extended to North Fourth Avenue.
The adjacent parking lot is leased to McKinley Inc., which has its corporate offices next door.
The tax foreclosure comes two years after Huntington Bank sued for repayment of a $2.275 million loan that was secured by the mortgage on the property. The litigation was filed against North Main/Fourth Ventures LLC; Concannon's business partner, Paul Sieben of Ohio; and 414 N. Main St. LLC, an entity led by Mel VanderBrug of Bloomfield Hills that owns 217 E. Kingsley, part of the Gallery site plans.
In 2010, Concannon said he was still trying to secure financing to build the high-rise - an effort stalled by the economy and its real estate implosion.
"It's not easy," he told AnnArbor.com in April 2010. "Every time we think we have one piece put together, then something happens in the economy."
Then by summer 2011 - as the site plan was extended until 2013 - city planning officials said they were told that the Gallery developers were putting financing together to build apartments.
"(W)e have a commitment for financing for the (p)roject and therefore have decided to apply for the extension ... so we have time to bring the project to market," Concannon wrote to city officials.
In the meantime, the condition of the building deteriorated, prompting city officials to identify it as a demolition priority.
In 2007, Concannon expressed frustration that he couldn't obtain a demo permit. City records indicate one hasn't been issued.
Paula Gardner is news director of AnnArbor.com. Contact her by email or follow her on Twitter.