Posted on
Thu, Aug 26, 2010 : 5:19 a.m.
Executive Profile: Amy Grambeau, director, Orange Egg Advertising
By Sarah Rigg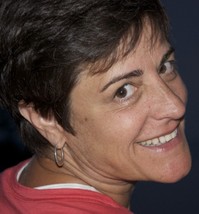 Amy Grambeau, director of
Orange Egg Advertising
in Ann Arbor, said she tells people to remember her website address by picturing an orange egg in a net. She said that, years later, people will tell her they can't get the image out of their heads — which is exactly what she was aiming for when she chose the name for her company.
That kind of creative thinking may be one reason Orange Egg has received awards at the local and national level for its advertising campaigns. Recently, the public education advertising campaign for the Ann Arbor Transportation Authority created by Orange Egg won the Award of Excellence from the Transportation Marketing and Communications Association during the national organization's annual Compass Awards.
Grambeau said Orange Egg's business model is also important in the current economy.
"We're a virtual a la carte full service ad agency," Grambeau said. "We all work out of home offices, and we don't have to pass on overhead to our clients."
Grambeau said the agency does "everything from simple one-time projects to full-service agency work." She said that's appealing to many companies who don't want or can't make a major commitment to having a full-time person on staff devoted to marketing and advertising.
Grambeau said she's always been interested in advertising and began writing ads for different products when she was in sixth grade. She said she'd mail them in to the company and often received nice letters back.
After getting a degree in public communications at Boston University, she worked for a variety of different advertising firms in a variety of media, from local TV to radio to outdoor billboard advertising campaigns.
"I understand the media from the inside out," she said. "When we put a media plan together for a client, I really understand how it works and how it doesn't."
Grambeau said she started her own agency in 2004 because she didn't want to limit herself to one kind of media and wanted to be able to offer a full range of services to clients.
"It was a natural progression for me," she said. "I didn't want to just sell a billboard to a client because the company I worked for sold billboards. I wanted what was right for them, what was best for the client."
Though technology makes it possible to work with clients across the globe, Grambeau said she enjoys working mostly with local companies, because she enjoys meeting personally with clients and collaborating on their projects.
"You lose that face-to-face contact when you're working virtually," she said. "And out of that contact comes good things."
When asked about what's in the future for Orange Egg, Grambeau refers to the past, saying that, because she's been in the business so long, she feels she has a grasp on what current trends are here to stay and which ones are not.
"No one can predict what's going on with media and marketing choices," she said, but she and her staff make sure to stay informed about what's on the cutting edge.
For instance, she said, who would have thought about marketing on Twitter two years ago?
"And now, that's trending down," Grambeau said. "I think a bit of maturity helps. We have a perspective on the traditional media. Print, radio, TV — those aren't completely going away, they're just changing and morphing. We have the basis to understand those changes, and that's an advantage. We can offer 30 years of experience and then layer on new trends, see how they intermix, and not get too overzealous about some trend that's just a flash in the pan."
Background
Age: 53.
Education: Boston University.
Family: Husband Gregory. Thing one: Marcie. Thing Two: Michelle.
Residence: Farm in North Ann Arbor.
Business Insights
Best business decision: Naming the company Orange Egg Advertising.
Worst business decision: Nope. We learn from our mistakes.
Best way to keep a competitive edge: Travel and keep educating yourself.
Personal hero: Juliana, my grandmother, who came to this country at age 16.
How do you motivate people? Sushi.
What advice would you give to yourself in college? Yes, join the crew team!
Word that best describes you: Momma-Bear.
First website you check in the morning: I go straight to the e-mail.
Confessions
What keeps you up at night? Absolutely nothing. I sleep like a log.
Pet peeve: Blaring bass coming from the car behind me. That's just rude.
Guilty pleasure: Sushi.
First job: Lifeguarding.
First choice for a new career: Lifeguarding. Treasures
Favorite cause: The arts.
Favorite book: Whatever I am currently reading. Right now, that's "Oryx and Crake" by Margaret Atwood.
Favorite movie: "The Little Mermaid." The music is amazing.
Favorite hobby: Gourmet cooking with wine in hand and great music playing.
Favorite restaurant: August in the West Village.
LinkedIn, Facebook or Twitter? Facebook.
Typical Saturday: Green tea, walk Rotties, Nia, sushi and the rest is up for grabs…
Wheels: Mazda 3
Who would play you in a movie? Demi Moore, but she'll have to cut her hair again, no doubt.
Sarah Rigg is a freelance writer and a frequent contributor to AnnArbor.com. You can reach her at sarahrigg@yahoo.com.