Posted on
Thu, Nov 4, 2010 : 5:15 a.m.
Executive Profile: Mel Drumm, executive director, Ann Arbor Hands-On Musuem
By Sarah Rigg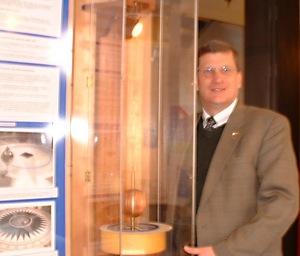 Sarah Rigg | for AnnArbor.com
One of the biggest challenges — and one of the biggest rewards — of being the leader of the Ann Arbor Hands-On Museum is creating a sense of community ownership of the organization, Executive Director Mel Drumm said.
Shortly after Drumm came to the museum in 2004, he and the board of trustees put together a strategic plan, with the primary goal of making the museum a "community-centered organization."
"We want to create community ownership and engagement," Drumm said. "My dream is to see someone while walking down the street saying to a visitor, 'You have to go to our museum.'"
The effort to make area residents feel that the museum is their own seems to be working; the number of families with memberships to the museum is at an all-time high, around 43,000 families, Drumm said.
Drumm said he was enthralled by museums from the age of 8 when he saw a demonstration of the Foucault Pendulum at the Cranbrook Institute of Science.
"My mouth was hanging open and my eyes were wide," he said. "I talked all that summer about my visit to the museum."
Drumm said his mother encouraged him to pursue his interest in museums, and later, when Drumm was 19, she pointed out an opening at Cranbrook, the very museum that had sparked his interest.
"In college, I got a job working there, and one of the first things I did my first day on the job was to be the demonstrator for the pendulum display," he said. "I thought back to when I first saw the demonstration, and I looked at the 8 year olds around me. I thought if I was lucky, I could do for them what the demonstrator did for me when I was 8."
Still, after getting his bachelor's degree, Drumm didn't think he could make a living working for a museum, so he took a detour into the computer science industry.
During the time he worked for a computer science company, Drumm had an opportunity to apply for a job at the Hands-On Museum working with the founding director. Drumm turned it down, a move he would later kick himself for.
"We all have a point where we made a mistake in our career," he said. "In my case, I learned early that if you want to succeed, you have to take a risk."
Eventually, in 2001, Drumm came back to his first love of museums, helping to get the Detroit Science Center back into shape and building community partnerships there.
Then, a few years after that, when the previous executive director of the AAHOM announced his retirement, half a dozen of Drumm's friends said they hoped he would pursue the opening.
""I applied, and here I am," Drumm said. "I got my second chance."
Under Drumm's guidance, the museum continues to add community partners, offer innovative programming and refresh its exhibits.
For instance, the museum debuted a new Great Lakes exhibit, a collaboration with the National Oceanic and Atmospheric Administration, in October, and the museum recently partnered with the Creative Discovery Museum in Chattanooga, Tenn. to deliver biofuels workshops to students in Michigan.
The museum was also recently awarded a $35,000 grant to provide financial assistance to schools through the AAHOM "Discover Science Assistance Fund." The fund provides reduced museum admission to schools and supports a reduced-fee lab to compliment a field trip, making the museum more accessible to students from low-income homes and school districts.
Drumm, who describes himself as "a geek at heart," said the museum is not a place to "teach" but rather a place for young people to explore.
"Our job is to inspire them and spark their imaginations," Drumm said. "This is not a place where we teach — it's a discovery center."
Background
Age: Old enough to know better and young enough to feel like a kid.
Education: Bachelor's degree from Oakland University, MBA from University of Michigan.
Family: Wife and one daughter.
Residence: Novi.
Business Insights
Best business decision: Learning, early on, to take risks.
Worst business decision: Not following my best business decision.
Best way to keep a competitive edge: Remain relevant.
Personal hero: The innovators that make the impossible possible.
How do you motivate people? Share in their enthusiasm and seek the resources to make their endeavors happen.
What advice would you give to yourself in college? Stay focused, remain disciplined, and pursue your passion.
Word that best describes you: Enthusiastic.
First Web site you check in the morning: Detroit Free Press.
Confessions
What keeps you up at night? Thinking about how to reach more people with our experience.
Pet peeve: People that don't use turn signals while driving.
Guilty pleasure: Anything with cream cheese frosting.
First job: Laser Project Manager at the Cranbrook Institute of Science.
First choice for a new career: Architect.

Treasures
Favorite cause: Ann Arbor Hands-On Museum.
Favorite book: "The Flying Circus of Physics."
Favorite movie: "The Day the Earth Stood Still" - the original
Favorite hobby: Gardening.
Favorite restaurant: Real Seafood.
LinkedIn, Facebook or Twitter? LinkedIn.
Typical Saturday: Saturday belongs to my wife - always something fun.
What team do you root for? Go Blue!
Wheels: VW.
Who would play you in a movie? Bill Nye, the Science Guy.
Sarah Rigg is a freelance writer and a frequent contributor to AnnArbor.com. You can reach her at sarahrigg@yahoo.com