Posted on
Tue, Oct 19, 2010 : 2:47 p.m.
Arbor Brewing Co. adds beer production, plans 'green' building conversion and India franchise
By Sven Gustafson
AnnArbor.com files
With business bubbling, Arbor Brewing Co. is accelerating plans to expand production and debut three new bottled beers in 2011 while undertaking an ambitious plan to overhaul its namesake Ann Arbor brewpub and Corner Brewery in Ypsilanti into green-energy showpieces.
The company, which recently marked its 15th birthday, is also working on a joint venture agreement to open its first franchise brewpub in Bangalore, India.
"There's a lot going on right now," co-owner Matt Greff said.
That may be an understatement.
Greff and his wife and business partner, Rene, plan to spend between $250,000 and $300,000 on the expansion projects, which involve doubling output at the Corner Brewery, where bottling is done, and retrofitting both brewpubs with a hybrid solar thermal and geothermal heating and cooling system.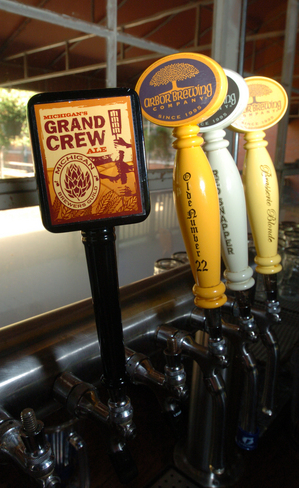 AnnArbor.com files
With cumulative year-over-year sales up 35 percent and the brewery struggling to meet demand, the couple had already been toying with the idea of expanding.
They talked about removing a walk-in cooler at the Corner Brewery to make room for more tanks and building a 1,800 square-foot cold storage unit behind the beer garden to hold bigger inventories. But the project probably wouldn't take shape until some time next year, they thought.
Then Matt learned of an "extremely nice, very affordable" bottling line that Founders Brewing Co., the Grand Rapids microbrewery, planned to sell as part of its own expansion project.
The bottling line, which has a capacity of 30,000 barrels, would easily allow Arbor Brewing to double production from 3,500 barrels per year to 7,000, and it would allow the brewery to bottle four times faster than under the current system. But Greff said the Founders owners plan to decommission the line in January, which put the crunch on their expansion plans.
"It kind of happened really quickly," Greff said.
"Ideally, if we can really pull a lot of things together, we would like to have the new storage unit in place, or at least the foundation for it, in place by the middle of November. Any my goal is to have the bottling line up and running and the expansion complete by March or April of next year, because that's really getting into our busy season."
Arbor Brewing plans to release three new bottled beers in 2011:
The brewpub's popular Faricy Fest Irish Stout will be in distribution from January through March.
Dark Corner, a beer made jointly with Dark Horse Brewery Co., will be available starting April 1, with half of each six pack made at the Corner and half made at Dark Horse in Marshall. Greff describes the beer as an imperial American brown ale with aggressive hops and malt flavoring and nearly 7.5 percent alcohol content.
The Mackinac Island Fudge Stout, a light-bodied, full-flavored and low-alcohol stout made with fudge and chocolate, will be available June through August.
A green energy showpiece
For the green-energy makeover, the Greffs are working with Tartan Energy Systems, a Birmingham firm run by Roman Bukowinski, an award-winning Scottish-born engineer who has developed sustainable energy systems for homes and buildings. (View a video of him explaining his work here.)
Bukowinski described a closed-loop system that relies on solar thermal tubes and tanks, tankless water heaters, geothermal wells and waste heat recovery vents. It will be the first project he's undertaken for a brewery, he said, though he has installed similar systems for buildings and homes.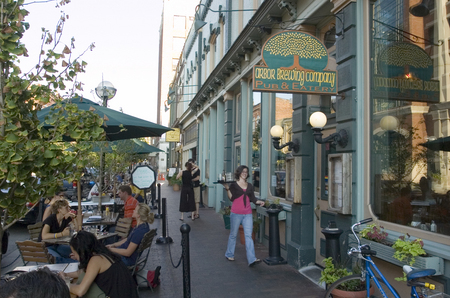 AnnArbor.com files
"This system will increase the volume of beer made while reducing the cost to make the beer by more than half," Bukowinski said in an e-mail.
"The beer storage cooler will also use the ground water temperature to cool the beer at around 49-55 (degrees) F. This will reduce the brewery's utility bills by more than 50 percent."
Greff said the city of Ann Arbor is looking at funding low-interest loans for similar clean energy projects. He plans to meet with the Ann Arbor Downtown Development Authority to pitch ABC as the first showpiece for the program.
At the Corner, the idea is to replace a massive boiler used to heat the entire brewery, the various kettles and find alternative ways to boil beer, heat the brewery and water, run the bottling line and so forth. The new cold-storage facility would use geothermal cooling and solar light tubes.
Beers in Bangalore
The Greffs say they aren't too worried about spreading themselves too thin, despite all the different pieces in the air. The energy project will share a project design and contractors, and the expansion project is fairly simple.
"The curve ball thrown in there is obviously the project in India," Greff said. "We'll just have to really work on the timing to make sure that these projects are complete, they're well in hand before we head over to India for two months to get the brewery open over there."
The deal with Gaurav Sikka, a University of Michigan graduate and former Arbor brewpub regular, will see the Greffs retain a 5 percent ownership stake in Arbor Brewing Co. India Ltd. The Greffs will also serve as consultants on the project, with audit controls for beer recipes and quality.
"It's really their company, their project," Greff said. "We've got very strong stipulations in the contract that all of our mores and business ethos need to be followed."
If all goes well, the business could be franchised elsewhere in India.
"There's a million different things going on for us in a lot of different directions but it all feels really natural, like it was a natural progression of things," Greff said. "It feels great."
• Contact Sven Gustafson at sventg123 (at) gmail (dot) com, or follow him at twitter.com/sveng.