Posted on
Mon, Dec 5, 2011 : 7:35 a.m.
Experts fear U.S. battery companies could meet 'same fate as domestic solar-panel makers'
By Nathan Bomey
U.S. battery makers — including A123 Systems Inc., a company that employs 40 in Ann Arbor and 700 in Michigan — face a number of significant challenges, leading some experts to fear "that the fledgling industry could face the same fate as domestic solar-panel makers," the Wall Street Journal reported.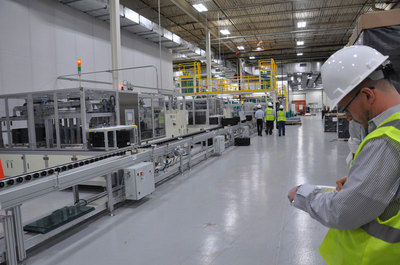 Photo courtesy of A123 Systems
The steep cost of manufacturing expansions and a lack of significant customers are big hurldes, but Asian rivals also present a major problem for new U.S. battery plants.
"Korean and Japanese companies have a big head start in this market," the Journal reported. "They've been making lithium-ion batteries for consumer electronics for at least 20 years—and they've been aggressively moving to leverage that experience to serve the electric-vehicle market."
A123 Systems, which has reduced its Michigan workforce by 30 percent since July, says it has a stockpile of cash and a growing list of customers that will help it thrive. The Massachusetts-based company has said its layoffs are temporary. (Read AnnArbor.com's extensive analysis on A123 Systems' financial health and market challenges.)
"A123," the Journal reported, "says its technology can squeeze more energy out of batteries than competitors' can, allowing it to supply smaller packs that provide the same range as larger ones."
Other battery makers that have had to scale back expansion plans include Johnson Controls, which has a plant in Holland.
Read the full Wall Street Journal story here.
Contact AnnArbor.com's Nathan Bomey at (734) 623-2587 or nathanbomey@annarbor.com. You can also follow him on Twitter or subscribe to AnnArbor.com's newsletters.