Posted on
Wed, Mar 10, 2010 : 8:23 p.m.
Alternative transportation experts pitch million-dollar options for University of Michigan
By Nathan Bomey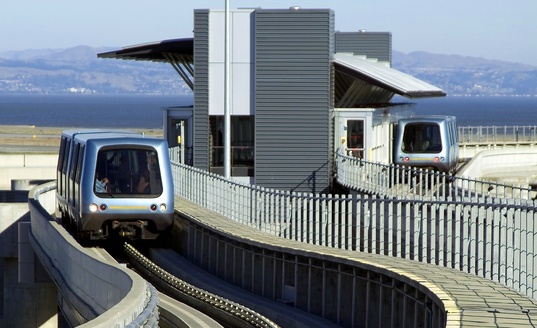 Photo courtesy of Bombardier
Alternative transportation options pitched Wednesday night to the University of Michigan ranged wildly in price and technology.
The transit systems described by a variety of experts included monorails, aerial rail systems, personal rapid transit systems and advanced bus systems. They ranged in price from tens of millions of dollars to hundreds of millions of dollars. 

One proposal - outlined by a U-M engineering class - pitched a $434 million monorail system that would connect the university's central, medical and north campuses. That's more than four times the price U-M paid last year to acquire the 174-acre ex-Pfizer site, a moment described as a catalyst in the university's decision to explore new transit options.
To be fair, though, several other systems proposed by transit experts were much less expensive.

"The technology is out there to meet your needs," said Jim Spakauskas, director of sales and business development for transportation equipment manufacturer Bombardier. "The real focus is to just determine what those needs are. Once you can adequately determine those needs, you can always find a technology to match and suit those needs."
U-M hosted the forum to begin the process of exploring better ways of connecting the university's disconnected real estate.
President Mary Sue Coleman, who last fall announced plans to study future transportation options, attended the entire 2.5-hour forum Tuesday night but did not discuss the proposals.
The panelists included transit leaders and business executives from transportation networks throughout the country. They offered a variety of proposals, some rough sketches and others specific to Ann Arbor's needs.
But Jim Kosteva, U-M's director of community relations, emphasized that the university is still studying options and is not ready to consider specific proposals.
"It is well down the road before we would find ourselves potentially in that realm," he said.
Still, the panelists offered a glimpse of the types of options U-M could pursue. Highlights from the presentations:
-- Spakauskas pitched a "conceptual route" for an aerial monorail system that would connect U-M's three campuses and athletic facilities on a 7-mile track. It would use Bombardier's low-noise, driverless trains. Spakauskas didn't offer a cost estimate.
-- Randy Woolwine, vice president of sales for alternative transporation equipment maker Doppelmayr, said his firm offers gondolas, reversible trams, funitels and other systems. He said systems range in route size from 1,000 feet to 5.5 miles, can cost between $7 million and $40 million and carry 3,000 people an hour each way.
-- Chris Perkins, chairman of Unimodal Systems, described a "personal monorail" network that allows users to specify their destination when boarding. "You'd be able to go anywhere on the network nonstop," he said.
Other experts, including leaders from Minneapolis Light Rail and West Virginia University's personal rapid transit system, offered advice for U-M as it develops a future transportation strategy.
Hugh Kierig, WVU's director of transportation and parking, encouraged U-M to construct a system that's flexible and friendly to technology upgrades. WVU's 35-year-old system is an "icon" of the campus, he said, but it's also showing its age.
"We were not able to keep up with technological changes," he said. "That has been a significant barrier in our ability to continue to provide reliable service."
Nonetheless, Kierig said a rapid transit system can be a marketing tool.

WVU's system "is a real integral part of the transportation system in our community and it is certainly an icon of the university," he said. "There isn't one marketing bit of information that's not issued by the university that does not have the PRT on it someplace."
Kosteva said the university plans to collaborate with the city of Ann Arbor and other groups on a prospective plan.
"I think it's abundantly clear that we have a lot of lessons to learn," he said.

Funding the development of a new transportation network could present the greatest obstacle, even for the cash-rich university.
U-M engineering professor Patrick Spicer delivered a presentation detailing a monorail proposal by his class of engineering students. His class believes that federal dollars could provide up to half the funding needed for a major transit project.
But Peter Allen, an Ann Arbor real estate developer and mass transit activist, said he doubts that the government would open its pocketbook to fund U-M's new system. He believes that to fund the system, the university will need to pursue a tax increment financing plan in cooperation with Ann Arbor.
Contact AnnArbor.com's Nathan Bomey at (734) 623-2587 or nathanbomey@annarbor.com or follow him on Twitter. You can also subscribe to AnnArbor.com Business Review's weekly e-newsletter or the upcoming breaking business news e-newsletter.