Posted on
Fri, Feb 11, 2011 : 5:50 a.m.
Renovations to The Chop House and La Dolce Vita warm up restaurants on Ann Arbor's Main Street
By Janet Miller
The Chop House and La Dolce Vita, downtown Ann Arbor's high-end steakhouse and dessert destination, just got warmer as the February cold drags on.
A top-to-bottom facelift, including replacing the stark white interior with warmer earth tone colors, closed the Main Street restaurants for five days.
They re-open today with new carpet, furniture, fabrics, lighting and colors that include tans, browns and ambers.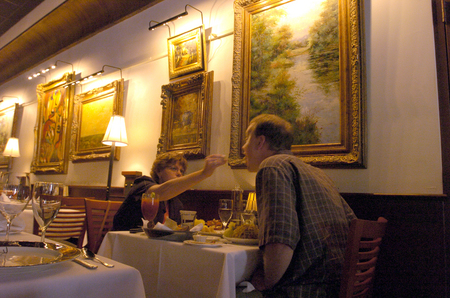 AnnArbor.com files
"Before, it was classic steakhouse. It didn't have a lot of warmth to it," said
Kevin Gudejko
, director of operations for
Mainstreet Ventures
, which owns the restaurant and dessert lounge.
After more than 12 years in business - sometimes seeing 300 to 400 customers in a weekend - The Chop House interior had worn thin, Gudejko said.
"With the sheer numbers of people who walk through, it was starting to get tattered. We wanted to give it a fresh look, but still be a classic steakhouse."
The remodeling project won't add seating capacity. In fact, the main dining rooms will lose a couple of seats, Gudejko said. The main dining room seats about 75 people, with room for another 100 in La Dolce Vita and the bar.
At the same time, the remodeling project presented a chance to respond to recent trends in the restaurant industry, such as growing interest in the bar area from diners looking for a more casual, quicker and less costly night out, Gudejko said.
The Chop House bar area was expanded and a new copper-top bar with black onyx backlighting added. New, more comfortable seating was also installed in the bar area, and high table tops replaced lower table tops, which can have a more cocktail feel, Gudejko said.
"It will give people the chance to come and have the Chop House experience without sitting down for 1 ½ hours."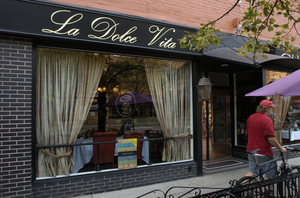 AnnArbor.com files
The remodeling will herald in a new, expanded bar menu, including lighter fare options such as Lollipop lamb chops and a trio of Kobe sliders.
Also, the growing interest in the meal itself saw the addition of new low-light spotlights at each main dining room table with elimination of some of the ambient light.
"There will be more focus on the table top," Gudejko said.
A new, more prominent dessert station for La Dolce Vita was installed, including a white Italian marble bar top backlit by honey-gold lighting.
While the remodel wasn't a response to the market, it is expected to increase diner traffic, Gudejko said.
"It wouldn't be prudent to not hope to see a return on the investment, but that wasn't our main objective." Gudejko did not know the project cost. Architects Design Collective of Columbus, Ohio, worked on the project.
The Real Seafood Company, another Mainstreet Ventures property, will also receive a facelift later this year, Gudejko said.
Send business news to Business News Director Paula Gardner, by email. Sign up for the weekly Business Review newsletter, distributed every Thursday, here.