Sold: Banfield's Westside Grill on Jackson Avenue
Posted on Mon, Jun 11, 2012 : 5:58 a.m.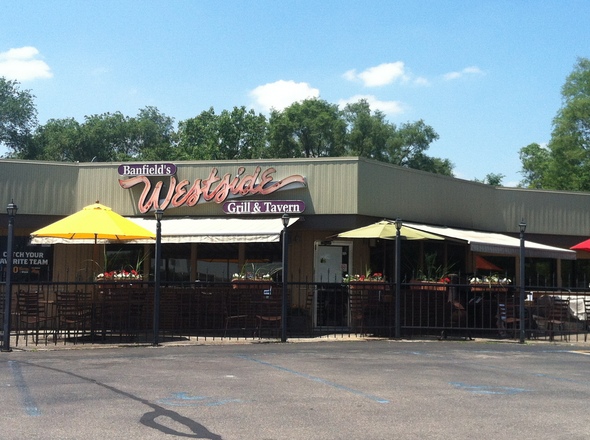 Lizzy Alfs | AnnArbor.com
After nearly two decades in operation, the family owned Banfield's Westside Grill & Tavern on Jackson Avenue just west of Ann Arbor is changing hands.
The restaurant and sports bar, located at 5510 Jackson in Scio Township, was sold last month to another local family with ties to the Ann Arbor business community: Rick and Ben Buhr.
The Buhrs officially took over Banfield's last week, and they now plan to renovate, update the menu, hire additional employees and eventually change the restaurant's name. The father-son duo are partnering with Tony Bonino in the venture. "There's a lot of great stuff to build on here," Ben Buhr said. "We just want to take what they've built and bring it up to date.
"We want to convince people who haven't been here in a while to do a 180(-degree turn) and come back to check it out."
That includes: cleaning it up, updating the technology, rebuilding the menu, bringing in more University of Michigan-themed memorabilia and hosting more sports-related events.
According to Scio Township documents, the building was sold for $1.66 million. Its assessed value for the 2012 tax year is $573,900, making its estimated market value about double that.
Ben said they've already completed in-house interviews with Banfield's existing employees, and they plan to keep the current staff, as well as hire a handful of additional people.
Rick Buhr's history in the Ann Arbor restaurant business dates back to 1979, when he opened Good Time Charley's in downtown Ann Arbor. He sold the business in 2007.
In the past year, Ben said they've been looking to get back into the restaurant or bar business in the Ann Arbor area and looked at several properties downtown.
Jim Chaconas of Colliers International, a commercial real estate broker who worked with the Buhrs, said they had a couple different buildings under contract that never went through. When Chaconas approached Tom Banfield, he said he'd be interested in selling his Scio Township restaurant.
"It was the perfect marriage," Chaconas said. "Tom was tired, and you know, wanted to do something different, and for Rick, he wanted a sports bar for his son."
He added: "This one has a great reputation and a great location. They're going to keep on the heritage of what Tom did."
Ben added that he and his father jumped on the opportunity as soon as possible: "It's a high demand property and has a great following with the west side neighborhoods and all of Ann Arbor."
He said the ownership transition has gone smoothly so far, and both customers and staff have been welcoming.
"The following here is extremely loyal," he said. "I've been here six nights, and it's the same people all the time coming in to grab food or watch a game…it's been a pleasant surprise how the customers and staff have welcomed us in. As long as you respect the customers and treat them right and give them good service, hopefully they'll stick around."