Posted on
Sat, Jul 28, 2012 : 5:57 a.m.
Fat Philly's & Burgers restaurant opens in Ypsilanti Township
By Katrease Stafford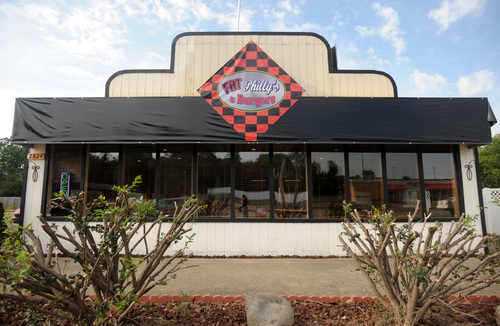 Angela Cesere | AnnArbor.com
A new family-style restaurant in
Ypsilanti Township
is serving up Philly cheese steak sandwiches, burgers, subs and salads.
Owner Anthony Wilkins said his restaurant, Fat Philly's & Burgers, has a concept that stands out in Ypsilanti.
Wilkins says the restaurant has an extensive menu that features a variety of sandwich, burger, sub and salad offerings. The Philly steak is served with grilled green peppers and onions topped with Swiss cheese on a warm hoagie bun.
"There's nothing like it in the area," he said.
The restaurant opened July 13 after Wilkins spent six months searching for a suitable location. Wilkins said he searched in Ann Arbor, Novi, Royal Oak and Canton before deciding on the building located at 2224 Washtenaw at the corner of Hewitt.
This place has the synergy we were looking for," Wilkins said. "In addition to the EMU college campus and not being far from downtown Ann Arbor and U-M, as far as all of the places we were looking at, this location has turned out to be a good choice."
The restaurant, which is nearly 3,000 square feet, seats 89 customers, and the interior has booths along the walls to give it a sit-down feel with Michigan-based sports team memorabilia decorating the walls.
Wilkins, a Canton resident, said the goal was to create a fun environment with a community-based atmosphere.
"It's more of family style sports bar without the liquor," he said. "We have monitors where we run sports on a regular basis and we're reaching out to local schools and colleges to bring their stuff in for us to hang."
Wilkins said the location is what has been driving business thus far.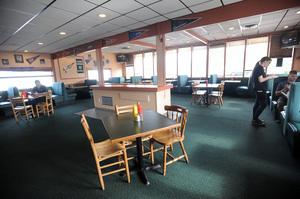 Angela Cesere | AnnArbor.com
"It's one of the key things that has brought our customers through the door," he said. "The visibility is awesome and with rush hour, there's a huge amount of traffic that comes through and we've been able to bring in a good amount of business."
In terms of demographics, Wilkins said when he decided to open the restaurant, he didn't have a specific clientele in mind and he's seen a mixture.
"It's been a consistent flow through the door, and people appreciate the concept of the store." He sid businessmen, families and construction workers come in for lunch.
"There's really nothing like it, and we're anticipating once school starts back up and students come back, that business will increase and we're looking forward to that," he said.
Wilkins currently has 10 employees, but he's looking for an additional two cooks to add to the staff. If business takes off, that number could expand further. Wilkins said opening more locations may be in his future.
"Our intent is to branch out and do more things," he said. "We intend to expand."
The restaurant is open from 11 a.m. to 9 p.m. Monday through Saturday and noon to 9 p.m. on Sundays.
Katrease Stafford covers the city of Ypsilanti for AnnArbor.com. Reach her at 734-623-2548 or KatreaseStafford@annarbor.com. You can also follow her on Twitter.