Posted on
Thu, Nov 10, 2011 : 5:57 a.m.
Federal-Mogul reveals touch-free interior vehicle lighting developed in Ann Arbor
By Katrease Stafford
Auto supplier Federal-Mogul Corporation provided a rare inside look at its Ann Arbor research-and-development center, showing off energy-efficient lamps and new touch-free lighting technology developed here.
The technology could revolutionize the market for lighting inside vehicles, said Ramzi Hermiz, Federal-Mogul's senior vice president of vehicle safety and protection.
"Federal-Mogul is bringing this new and innovative technology to the automotive market," Hermiz said at an event designed for the media. "We expect our touch-free lighting to enable more freedom for vehicle designers, provide increased durability for vehicle manufactures and offer a much improved personalized lighting functionality for consumers."
The company, headquartered in Southfield, creates a large number of its products at its 37,500-square-foot facility at 3990 Research Park Drive on Ann Arbor's south side. The operation serves as the company's global lighting development and engineering center and has 40 employees.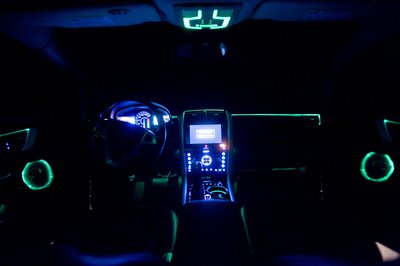 Joseph Tobianski | AnnArbor.com
Hermiz said the company's new touch-free LED interior lamp can be operated with a wave of the hand and reduces energy use while eliminating the design constraints previously created by mechanical switches. The first application of this product is a touch-free dome lamp that integrates a capacitive sensor switch into the overhead console of vehicles.
The capacitive proximity sensor functions by detecting the hand's conductivity and the switch is triggered by the conductivity of iron in the blood, Hermiz said.
Hermiz said unlike competing technologies such as infrared proximity sensors, Federal-Mogul's system works even when the operator is wearing gloves.
On Oct. 27, the company announced third quarter sales of $1.7 billion, up 12 percent from the same period in 2010. Representatives of the company said they believe the global auto interior lighting market demand will only increase over time.
Figures compiled by the company show an expected compound annual growth rate of 5.8 percent between 2011 and 2015.
Vehicle manufacturers such as Ford are increasingly looking for ultra-low-power interior lighting options. Car manufacturers are searching for differentiation and ways to satisfy customers and customer loyalty, Hermiz said.
Linda Rivers Bell, Federal-Mogul's director of global engineering and R&D technology, said the company's introduction of metalized and ambient lighting will allow consumers to personalize their vehicles. Bell said the product produces a homogeneous, directed light that does not distract drivers.
"We've really used measures to be cost effective," Bell said. "Our goal is safety, cleaner designs and greater visibility."
Research compiled by The Society of Light and Lighting shows ambient lighting influences not only interior attractiveness but space perception, functionality and safety.
Federal-Mogul's ambient lighting can be designed to display any color such as blue, pink or orange. The lighting can be integrated throughout the vehicle or in select areas such as speakers, cup holders, instrument panels and door panels.
"Our unique light pipe design is just one of several new lighting innovations," Hermiz said.
The metalized technology allows automakers to conceal the ambient lighting elements with a metallic-looking finish. The technology is among the first introduced to the industry.
The company has also integrated LED lighting to reduce the profile of interior lamps by up to 60 percent. New ultra-thin lamp lens called NovaLens are expected to provide "consistent and even illumination," Hermiz said.
"Our new lamp is just 12 millimeters thick," Hermiz said. "Unlike conventional interior lighting, Federal-Mogul's new ultrathin lighting with NovaLens provides a more stylish, integrated interior lighting solution. The consistent, homogeneous appearance is unrivaled in the industry."
The first production applications of the NovaLens are expected to reach the market some time during 2012 and the company is currently in discussion with vehicle manufacturers in several different countries. The company is also working with several manufacturers to integrate the new interior lighting technology into future model year vehicles.
"These products support our strategy for sustainable global profitable growth by offering customers new technology solutions to solve interior design challenges," Hermiz said.
Katrease Stafford is a freelance reporter for AnnArbor.com.