Posted on
Mon, Jul 26, 2010 : 5:50 a.m.
Financial pressures at Blockbuster Inc. raise questions about local stores surviving
By Paula Gardner
A new round of financial pressures at Blockbuster Inc. is generating local questions about the national chain's future.
The questions follow years of movie rental store downsizing as the industry shifts to digital product delivery instead of packaged media. Already this year, the Ann Arbor area's Hollywood Videos have closed.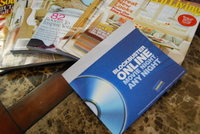 Source: Blockbuster Inc.
Now local real estate sources say word is circulating that many of the operating Blockbuster stores could be closing in coming months - even by the end of summer as the chain faces a mid-August deadline to catch up on a $42 million loan payment.
Area Blockbuster stores are located in Woodland Plaza, 2248 S. Main, and Traver Village, 2610 Plymouth Road, in Ann Arbor; 2547 Ellsworth in Ypsilanti Township; and 1305 E. Michigan Ave. in Saline.
The chain has already announced plans to close up to 545 stores this year through a major downsizing effort that started in spring.
"We have an expectation that they're going to close most if not all of the stores," said Tom Goldberg, co-owner of Woodland Plaza at South Main and Ann Arbor-Saline Road.
However, as of the end of last week, no closing notice has been given.
"We've had no formal notice or dialogue with them," Goldberg said.
The Dallas-based Blockbuster announced early this month that its stock was to be delisted from the New York Stock Exchange. After missing a $42 million interest payment this month, it also reached an agreement with a majority of its investors to enter forbearance - a period where the lender will hold off on collecting an overdue payment - until at least Aug. 13.
That news followed a warning issued by the company in March that it could face bankruptcy due to its $1 billion debt.
In 2006, the chain operated more than 5,000 stores in the U.S. That number was down to 3,525 early this year.
Meanwhile, the chain is converting its business model to adapt to direct-to-consumer electronic delivery and movie rental kiosks, both of which - if successful - will further reduce the retailer's need for prime store space.
Each closing would leave, on average, a 5,000-square-foot retail vacancy.
The local stores are performing well, according to real estate sources. That let them survive previous rounds of downsizing, even as real estate representatives sought rent concessions and renegotiated lease terms.
However, the chain's overall financial picture and the industry's direction may make a local round of closings inevitable, Goldberg said.
"It seems like it's in the cards," he said. "I suspect we'll see it by the end of the year."
Paula Gardner is Business News Director of AnnArbor.com. Contact her at 734-623-2586 or by email. Sign up for the weekly Business Review newsletter, distributed every Thursday, here.