Posted on
Fri, Aug 2, 2013 : 5:55 a.m.
First glance inside Ann Arbor's newest high-rise: The Varsity
By Lizzy Alfs
In eight days, downtown Ann Arbor's newest high-rise apartment building, The Varsity, will open its doors to its first wave of tenants.
Finishing touches are being made this week to the 13-story, 415-bed building at 425 E. Washington St. The Varsity is hosting an open house from 7 to 10 p.m. on Friday, Aug. 2, with appetizers, drinks, live jazz and tours of the building.
"We're doing all the last details," said Chris Cepeda, a marketing and leasing representative for The Varsity. "They are painting and putting together the gym. The rooms are all finished."
Cepeda said about two-thirds of the building's units are leased, and that's due in part to a management change halfway through the leasing season. Colorado-based Cardinal Group is managing the building for Maryland-based developer Potomac Holdings.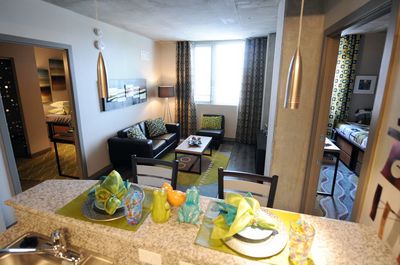 Melanie Maxwell | AnnArbor.com
"We have undergrads, we have some graduate students, as well as some people in the working industry, like people from Google and so on," Cepeda said.
The selling point, he said, is the building's location and the Sky Lounge on the 13th floor.
"You're still so close to campus you can walk there, but you're still surrounded by restaurants and bars," Cepeda said.
Construction on the complex began in February 2012, and it's wrapping up right on schedule. Tenants are planned to move in on Aug. 10 and Aug. 23.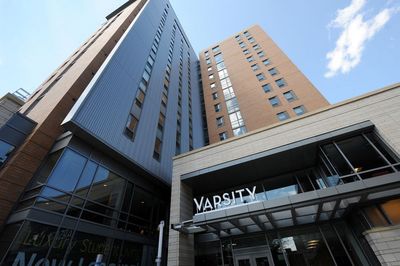 Melanie Maxwell | AnnArbor.com
"The building was supposed to be finished ahead of schedule, but rainy weather delayed an early finish," said Brad Moore of J Bradley Moore & Associates, an associate architect for The Varsity.
The building consists of studio units, and one-, two- and four-bedroom units. Rental rates range from $999 per bed in a four-bedroom, two-bathroom apartment to $1,644 for a one bedroom.
At street level, the building has a public plaza with a mid-block pedestrian connection stretching from Huron to Washington streets.
"Since the day this has opened up, it has been a highway with traffic," Moore said.
There are two levels of parking connected to the building with about 70 spaces, and indoor bicycle spaces. The parking is accessed from both Washington and Huron.
The first two floors of The Varsity have a 24-hour security desk, a leasing office, a 24-hour fitness center, tanning beds, a lounge, and a business center with study rooms.
Similiar to Ann Arbor's other new apartment developments, units at The Varsity come fully furnished with flat-screen televisions in the living rooms, in-unit washer and dryers, and free Wi-Fi and cable. The Varsity also boasts of a nearly one-to-one ratio of bathrooms to bedrooms.
The 13th floor of the building — the "Sky Lounge" — is an outdoor and indoor area where tenants can lounge, watch TV, and catch sweeping views of Ann Arbor, including the University of Michigan football stadium. Cepeda said the marketing team will be planning weekly events at the Sky Lounge and tenants will be able to reserve the space for events such as birthday parties.
The Varsity is one of nine apartment buildings constructed or approved in the downtown Ann Arbor area since 2009. Landmark, Zaragon West and City Place opened in 2012.
Lizzy Alfs is a business reporter for AnnArbor.com. Reach her at 734-623-2584 or email her at lizzyalfs@annarbor.com. Follow her on Twitter at http://twitter.com/lizzyalfs.