Posted on
Fri, Mar 30, 2012 : 5:59 a.m.
45,000 square feet of ex-Borders office space in downtown Ann Arbor is sold
By Lizzy Alfs
Editor's Note: The photo caption has been updated to clarify the portion of the building purchased by First Martin.
Real estate firm First Martin Corp. recently purchased a slice of downtown Ann Arbor office space once occupied by bookstore chain Borders — and now First Martin is now marketing it for lease, the company confirmed.
Ann Arbor-based First Martin acquired approximately 45,000 square feet of vacant office space located at the rear portion of the building that also previously housed Borders' Liberty Street store. The office space is situated on Maynard Street, partly underneath the public parking garage.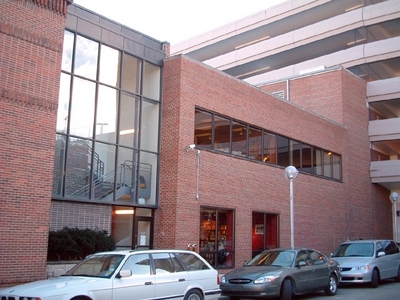 Photo from loopnet
The company posted signs on the building this week marketing the space for lease for retail or office use.
The space -- which is separate from the roughly 40,000-square-foot former Borders retail store -- is located on three levels. It's been unoccupied for years after serving as a portion of the Borders headquarters before the company moved to Phoenix Drive. Borders filed for bankruptcy and liquidated in 2011.
First Martin purchased the space for an undisclosed price from Farmington Hills-based real estate firm Agree Realty Corp., which still owned this portion of the property.
Due to a complex land-lease deal, Agree also once controlled the front retail space that was formerly leased by Borders Group Inc. for its flagship store. The ownership of that space shifted recently after Malcolm Properties LLC, a company partly owned by a family trust, struck a deal with Agree.
Mike Martin of First Martin declined to disclose First Martin's plans for the back space, except to say it is "evaluating all the options that are available" and it's likely it will be mostly office space with potential for some retail.
Neal Warling of real estate firm Jones Lang LaSalle called the space "really flexible," although some of the upper levels lack windows. He said there are ways to split it up for multiple tenants.
"It's just a matter of figuring out how to split it up and make it work for them," he said.
Jim Chaconas of Colliers International, who has shown the space to multiple clients, said the space presents challenges -- such as the lack of windows -- but said First Martin could renovate to make it more attractive to tenants.
"You know, we find stuff without windows difficult to lease, but First Martin is pretty clever and maybe they'll put windows in and renovate," he said.
Lizzy Alfs is a business reporter for AnnArbor.com. Reach her at 734-623-2584 or email her at lizzyalfs@annarbor.com. Follow her on Twitter at http://twitter.com/lizzyalfs.