Posted on
Wed, Feb 1, 2012 : 5:59 a.m.
Four college bookstores in Ann Arbor, Ypsilanti could close
By Nathan Bomey
The outlook for the college bookstore industry in Ann Arbor and Ypsilanti has tumbled into a state of uncertainty in the aftermath of the Chapter 11 bankruptcy filing of NBC Acquisition Corp.'s Nebraska Book Co.
Three college bookstores surrounding Eastern Michigan University's campus and one bookstore on the edge of the University of Michigan's central campus could close, according to bankruptcy documents reviewed by AnnArbor.com.
Michigan Book and Supply — which is located on the corner of North University Avenue and South State Street in one of the highest-rental-rate commercial real estate spots in the county — has previously been reported as one of the stores that could close.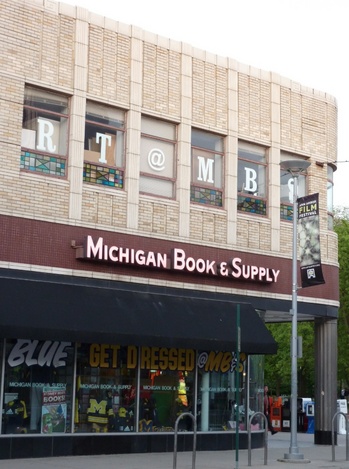 Photo via Flickr user sfgamchick
But Nebraska Book Co. also indicated in a bankruptcy filing that it may shutter Campus Book & Supply, Mike's Bookstore and Ned's Bookstore near EMU.
Ulrich's Bookstore on South University Avenue in Ann Arbor escaped the list of possible closures. Nebraska Book Co. on Jan. 17 received approval to extend the lease for Ulrich's through Aug. 31, 2016.
The possible closures highlight a bevy of challenges facing the college bookstore industry, including on-campus competitors, online giants like Amazon.com and the emergence of e-textbooks as a significant threat.
"College bookstores are just at the start of a pretty challenging time," said Michael Norris, a publishing industry analyst with Maryland-based Simba Information, in an email. "Those bookstores are no longer the concession stand in the theater that charges six bucks for Junior Mints."
Nebraska Book Co. won approval from a U.S. Bankruptcy Court judge to take until April 30 to decide whether to assume or reject leases for about 40 stores throughout the U.S., including the local stores. That's about one-third of its off-campus stores, which have been a drag on the company's financial performance.
The company, which filed for bankruptcy protection in June, said in a newsletter that it would "continue to evaluate (the) performance" of those stores to determine which ones to maintain.
In Ypsilanti, that effectively sets up a competition between Ned's, Mike's and Campus Book & Supply — which share a parent company but have long been engaged in a fierce competition for customers.
Nebraska Book Co.'s earnings before interest, taxes, depreciation and amortization (EBITDA) in the on-campus store segment are stable. But EBITDA in the off-campus store segment fell nearly 35 percent from $20.4 million to $13.4 million in the six-month period ended Sept. 30, according to a Jan. 23 filing.
Nebraska Book Co. believes it will be able to identify a sustainable business model that will win the approval of its creditors and a bankruptcy judge. The company's statements come after Ann Arbor-based bookstore chain Borders Group Inc. liquidated in 2011 after a brief bid to reorganize in Chapter 11.
"While we would like to have this behind us, we are pleased with the progress and remain confident we will successfully exit the Chapter 11 process in the near future," company president Barry Major said in a newsletter.
The company's decision to weigh closing many of its off-campus bookstores underscores the challenges they face in competing with on-campus stores, such as the stores in the student unions at EMU and U-M, in addition to online competitors like Amazon.com.
"The changes in our industry over the last few years have been especially difficult for our off-campus bookstores and we are taking this time to ensure that we are making decisions that improve our bottom line," Major said in a Jan. 5 press release.
Complicating matters for college bookstores is a move toward electronic textbooks, a shift U-M is considering accelerating.
Norris said the transition to e-textbooks "isn't that rapid at the moment" and won't quickly dig into sales at college bookstores.
But, he said, general economic pressures are pressuring stores.
"When I went to college I accepted that I'd spend hundreds of dollars on books that I'd sell to the same store later for enough gas to get me home at the end of the semester," he said. "But with college costs now being what they are, students and parents are watching every dollar, so if college bookstores can't adjust their business to compete, they won't last long."
Contact AnnArbor.com's Nathan Bomey at (734) 623-2587 or nathanbomey@annarbor.com. You can also follow him on Twitter or subscribe to AnnArbor.com's newsletters.