Posted on
Fri, May 25, 2012 : 5:59 a.m.
Five Guys Burgers and Fries set to open second Ann Arbor location, hiring staff of 40
By Angela Smith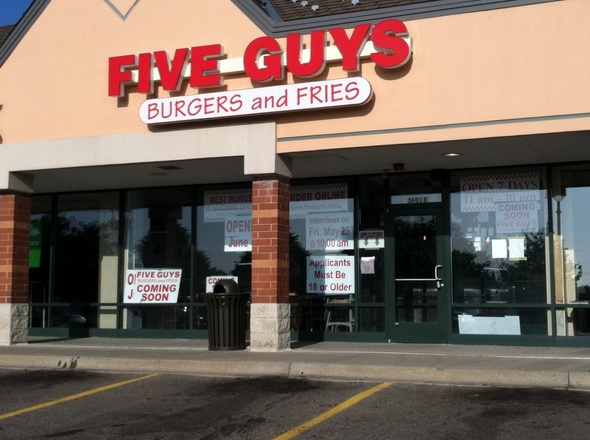 Paula Gardner | AnnArbor.com
The owners of Five Guys Burgers and Fries have set June 4 as the grand opening for their new restaurant in Arborland Center. It is the second Ann Arbor location, and the 16th overall for franchise owners Michael Abrams, Brian Adelman and David Pittaway.
Adelman said that the Five Guys location on South State Street has been successful, but he has even higher hopes for the Arborland location. He noted that the older building, the two stories and the lack of easy parking are all factors that can hinder business at the State Street location.
The parking situation near Starbucks in the front of Arborland, at Washtenaw Avenue and U.S. 23, is known to be difficult as well, but when asked about it, Adelman was positive. "We looked at this property about a year ago, but passed on it then because of the parking," he explained. Since then the owners have noted that other businesses in the front outlot area of the mall are performing well.
"(Arborland) offers good visibility, its readily accessible, and there is a good deal of adjacent parking; people will walk."
Five Guys Arborland will be a 2,500 square-foot restaurant seating 65 patrons. It's of average size for the franchise, and the 40 employees will begin training this Friday.
The restuarant will serve burgers and fries and other American favorites. The business's website calls it "the perfect teen lunch."
Arborland Mall also has plans to welcome two other businesses this summer that consider themselves a hit among teens: Ulta and Five Below.
Angela Smith is a freelance contributor for AnnArbor.com.