Posted on
Tue, Feb 26, 2013 : 5:58 a.m.
Ann Arbor woman turns passion for ballroom dancing in to business
By Angela Smith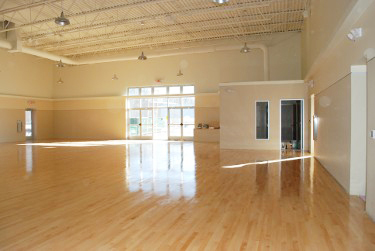 Photo courtesy of Footnotes
Footnotes Dance Studio
plans to bring the benefits of dance for personal growth to Ann Arbor.
Owner Ashleigh Alarcon says she's had a passion for dance since she was a kid. She studied tap and jazz in her youth, and discovered Salsa dancing while in college. "I fell in love," she says, "but, my passion for this goes further than my personal goals and joys."
Photo courtesy of Footnotes
Her dance studio, Footnotes, held its grand opening in January. Through American Ballroom classes, Alarcon hopes to enable her students to meet new people, enhance their marriage, lose weight, build self-esteem or just try something new. The studio offers private & group lessons and open dance parties.
Alarcon says that ballroom dance is gaining popularity in Ann Arbor, and that more and more dance opportunities are arising for that reason.
"Ballroom dancing is so popular for so many different reasons. Yes, you have the TV shows, So You Think You Can Dance and Dancing With the Stars that highlight the sport...it's beauty and hard work. They have brought ballroom dancing back to life in a way that made people appreciative and curious of what we, the instructors/professionals, do. But why people take ballroom dance lessons and stick with them are completely different than what those shows highlight."
Alarcon remembers back to when she first started taking ballroom lessons.
"What I personally loved about my lessons when I first started was the fact that it was my 'me-time.' I could walk in and forget about work and my to-do list and really focus on letting go, learn something I love and de-stress. For others it's for the social benefits like making new friends, rekindling a marriage or gaining more confidence (and) self-esteem."
Alarcon said ballroom dancing has health benefits as well, including boosting energy, diminishing depression, improving flexibility and helping to lose weight.
Alarcon attended a small art school in Chicago, The International Academy of Design and Technology, and studied merchandise management. After earning a bachelor's degree in 2005 she moved to Ann Arbor to manage a local women's boutique and picked up ballroom dancing as a hobby. She began training as an instructor, and decided to open her own studio this winter.
"So, yes, I am one of those people they call crazy for giving up their day job to follow a passion. But, I wouldn't want it any other way," Alarcon said. "I have been blessed with an opportunity of a life time and it would be crazy for me not to have taken this leap and share what I have so much passion for."
Footnotes rents 3,300-square-foot dance hall space at 4531 Concourse Drive, which is off State Street about a mile south of I-94. The company website provides information about class times and offerings.