Posted on
Fri, Aug 6, 2010 : 5:45 a.m.
Bridging fantasy and reality, Howdy Holmes traveled the long road from Chelsea to Indianapolis
By Ronald Ahrens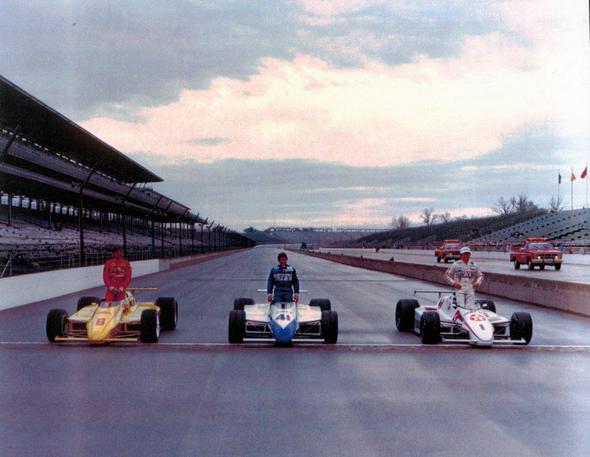 Photo courtesy of Howdy Holmes.
An advertisement caught Howdy Holmes' attention 42 years ago, inspiring him to set out from Chelsea on a quest to fulfill his boyhood dream of becoming a racing driver, a quest that uniquely succeeded.
In 1968, Holmes received a colorful circular for a racing school at the brand-new Michigan International Speedway. As the eldest of five children, he had first attended the Indianapolis 500 in 1957. The Holmes family, which owned Chelsea Milling Company, the maker of Jiffy mixes, used to picnic en route to Indy and always stayed in cheaper motels that were far distant from the Brickyard.
After "whimsically" attending the MIS school, Holmes left Eastern Michigan University and started on the long way around to the Memorial Day Classic.
"I worked for a guy in Ann Arbor whose name was John Stringer," recalled Holmes, 62, who is now president and CEO of the family business. "He had a company by the name of Road Sport International, and to me he was a big deal and a nice find."
After a couple of years as errand boy around Stringer's shop, Holmes bought a Royale RP3 single-seat, open-wheel racing car through Stringer's distributorship for the brand.
"The guys down here at Chelsea Milling Company built me about a 12-by-20-foot plywood garage in the corner of one of the warehouses, and I bought my engine manual from Ulrich's Bookstore, in Ann Arbor, and that's the way I started."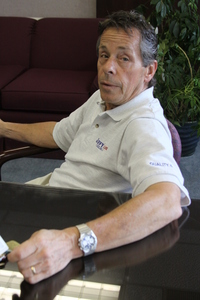 Ronald Ahrens for AnnArbor.com
Already late in joining the racing game, Holmes spent much of the 1970s perfecting his racecraft in Formula Atlantic. The series took him everywhere from St. John's, Newfoundland, to Mexico City. He earned the championship in 1978.
After a gaffe that might have kept him from leaping to Formula One, he received a surprise telephone call in March 1979 and heard himself being asked if he'd like to drive at Indianapolis with a brand-new team.
Thinking this was a joke, he first responded that he had a paddleball date on Memorial Day. Learning that the caller represented Sherman Armstrong, founder of the Armstrong Mold Company and a successful team owner in United States Auto Club sprint cars, he changed course.
"I was sort of kidding about the paddleball thing. Tell me what's up."
He soon found himself in the seat of an Offenhauser-powered Wildcat racer. Breezing through his rookie test at the Speedway, he qualified in 13th position for the race. Misfortune struck immediately after the green flag, and he lost at least two laps in the pits as a broken hose clamp was replaced.
Going back out in last place, he drove superbly after that. He remembers that he consistently achieved fourth-fastest cornering speeds throughout the race, according to Goodyear's tire technicians. By finishing seventh, Howard S. "Howdy" Holmes III, of Chelsea—eighth-generation scion in the flour-milling business—had become Indianapolis 500 rookie of the year.
He had completed the bridge between Chelsea and Indianapolis, between fantasy and reality, in a momentous way.
There were five more opportunities to race in the 500 during the 1980s. In 1984, he was second-fastest qualifier, posting a speed of 207.970 miles per hour and starting in the front row between pole-winner Tom Sneva and Rick Mears. He finished 13th that year. His best-ever finish of sixth came in 1983.
Photo courtesy of Howdy Holmes
Fans from Chelsea faithfully followed Holmes, showing up at tracks wearing "Howdy's Rowdies" caps and T-shirts, some of which are on display in the Chelsea Area Historical Society Museum.
Tom Diab was museum president for three years and acquired an old helmet and driving suit from Holmes. Diab marveled at the pock marks from tiny pebbles that bounced up from asphalt surfaces and struck the helmet, which was moving at 200 miles per hour.
Holmes' exploits aren't at all forgotten around Chelsea.
"Every time Howdy and I hang out, he gets noticed right away," Diab said. "The people, they kind of treat him like a rock star. Howdy's always happy to accommodate people. He never turns people away."
After sustaining a serious concussion late in the 1985 season at Laguna Seca, the road-racing circuit near Monterey, Calif., he missed all of 1986 and 1987.
In 1988 he received one more chance to race and barely qualified for the 500. Starting in 33rd position, he put in a heroic effort to finish 12th.
"Actually, I had the highest average finishing record of anybody who started three or more races when I retired in '88," Holmes said.
Along the way he became friends with such luminaries as the actor Paul Newman, who was a serious competitor in sports cars as well as an Indy car team owner.
"We used to call him Chicken Legs, because he had no calves."
The late Newman is remembered for singing "Happy Birthday" to Holmes' wife-to-be, Carole, in a Portland, Ore., restaurant in 1985.
Today, Holmes is grooming his 21-year-old son, who also goes by the name Howdy, to step into the business.
Holmes still goes to the Indy 500, taking along seven different employees each year. "To me, it's an opportunity to get to know them a little bit better away from here."
The differences in the racing, then and now, are obvious to those who have followed the sport. Holmes expressed sadness about the battle for control that changed the character of open-wheel racing in the 1990s and has resulted in all cars being essentially the same.
"It's kind of like a piece of you has gone away, and my reaction is to be very thankful and appreciative of having had an opportunity during a time when it was really something. I mean, it was really a big deal."