Posted on
Wed, Aug 18, 2010 : 5:52 a.m.
For University of Michigan grad, running Argonne National Lab's auto test facility is 'cutting-edge' experience
By Ronald Ahrens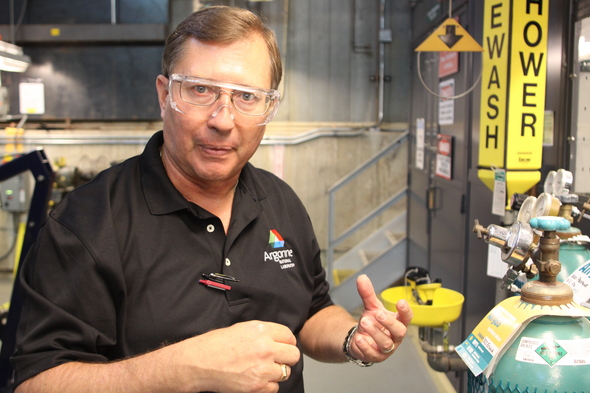 Ronald Ahrens | For AnnArbor.com
With a row of colorful computer screens in the control room and an amber warning strobe flashing in the dynamometer chamber, the lanyard that holds Glenn Keller's name tag offers some comfortingly familiar tones: maize and blue. He spends the day with this reminder of the University of Michigan around his neck.
Keller was a young engineer working in engine design and product planning for Ford Motor Company when he pursued an MBA from the U-M. He had an idea that he would like to get into management and knew business school would help.
Work on the degree stretched on from 1977 to 1982. His wife, Machelle, encouraged him to finish up in Ann Arbor.
"I didn't let too much moss grow under my feet," jokes Keller, who is hosting finalists in the $10 million Progressive Automotive X Prize at the testing facility he runs at Argonne National Laboratory near Chicago.
He was awarded his diploma at the same time the couple's first child was born at Henry Ford Hospital in Detroit. "After the delivery, we took photos with my newborn son while I was dressed in my cap and gown," he says.
During his days with Ford, he took a lot of grief from his fellow engineers after buying his first new car, a 1977 Pontiac Firebird Trans Am. Seeing it on the pedestal in the Paul Chapman & Sons showroom in Ypsilanti, he'd found the black coupe irresistible and made a deal to buy it for $8,300.
Yet his colleagues weren't too steadfast in their animosity. "They wanted the keys every day at noon," he says.
He still owns the Trans Am, which was really the last of the muscle cars. This summer, once again, it took first place in the 1970s Stock class of the Village of Downers Grove's Heritage Festival car show. The Trans Am has now prevailed four times in the class at this show.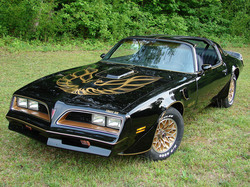 Leaving Ford in 1984, Keller did technical consulting for a time, helping to develop the polymer intake manifold for gas engines. Then he returned to his native Chicago to work as executive director of the Engine Manufacturer's Association, which represents the makers of power plants for everything from lawn mowers to ocean-going ships.
He came to Argonne in August of 2005 to run the vehicle systems group in the Center for Transportation Research.
Performing this month's validation testing on the nine X Prize finalists was a priority for the group's six researchers and four technicians. Keller had decreed there would be no vacations while these 100-mile-per-gallon (or equivalent) candidate cars were put through simulations of the EPA driving cycles, along with other tests, that determine fuel economy. Performance figures from Argonne will be averaged with those from the on-track testing that occurred at Michigan International Speedway in June and July, and the ultimate figures will determine the winners in three classes of competition. Winners are to be announced on Sept. 16.
"We're getting some really good data here," says Robert Larsen, director emeritus of the lab. He points to the Aptera 2e three-wheeler, a battery-powered electric vehicle, that's currently lashed to the dynamometer's steel roller. Spinning for 15 minutes against the car's drive wheel, it simulates the resistance of a 4 percent grade taken at 55 miles per hour.
"These (Aptera team) guys are salivating to get this data," Larsen says.
Commissioned in 2001, this dynamometer lab is specifically designed for research and development for electric-drive and alternative-fuel vehicles, and according to Larsen, "It's one of the highest-quality test labs in the country."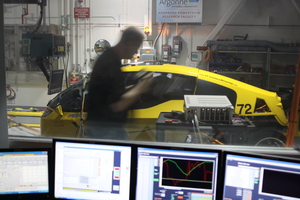 Ronald Ahrens | For AnnArbor.com
As manager for the last five years, Keller brings his wealth of experience to the procedures. Besides the dynamometer testing, there are several trial cells in which, for example, diesel engines are run on various grades of the fuel. Another cell is currently devoted to an experiment involving the direct injection of hydrogen into a normal automotive engine.
For an engineer like Keller, it's hard to find anything better.
"It's such a stimulating environment because there are so many cutting-edge types of technology that we get to work with. Along with that are the occasions that we have to talk with colleagues and be exposed to some of these new research discoveries."