Posted on
Sun, Nov 29, 2009 : 5:56 a.m.
ForeSee Results CEO Larry Freed: Cyber Monday 'a little bit over hyped'
By Nathan Bomey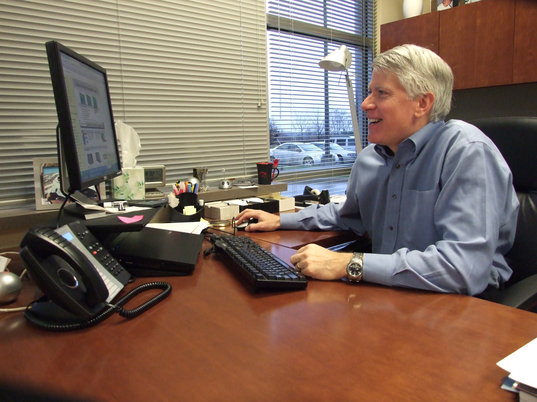 Nathan Bomey | AnnArbor.com
Customer satisfaction is ForeSee Results CEO Larry Freed's obsession.
Freed, who leads the rapidly growing Ann Arbor-based online survey firm, regularly emphasizes that a satisfied customer is a repeat customer. And repeat customers are what online retailers need as the National Retail Federation projects a 1 percent drop in total holiday sales this year.
More online retail stories

ForeSee Results, which has about 150 employees at its office on Green Road, expects 35 percent revenue growth this year. The company conducts online customer satisfaction surveys for a broad range of clients, including major online retailers like Best Buy, Target and Victoria's Secret.
Freed said ForeSee conducts an average of 1 million surveys a month, although he expects that number to increase to 1.5 million during the holiday season.
Freed recently spoke with AnnArbor.com's Nathan Bomey about online retail trends, how small retailers can capitalize on the Web and why Cyber Monday is "a little bit over hyped."
AnnArbor.com: How much do you think consumers are going to spend online this holiday season?
Larry Freed: It's going to be high single-digit (growth). It may even be higher than that. Consumers are pretty resilient. We're also working off a pretty low base from last year.
There are two other contributing factors that might drive people online more than in the past. One is, as silly as it sounds, the swine flu fear. As people are afraid of getting sick, will they spend less time in the malls and do more online? It's a possibility.
The other thing we're hearing from retailers is that they've taken a much more disciplined approach to inventory this year, which would imply that they are going to run out of merchandise.
So if you're looking for a specific product and you go to the local store, and it's not there, are you going to be more likely to go online where you can search all over?
Is free shipping the key for online retailers this year?
Discounts are going to be big, and free shipping's a part of it, no doubt. I think it's almost a cost of entry at this point.
There's been a lot of press about the price war in the book industry among Walmart, Amazon and Target. Are we going to see that in other sectors?
Yeah, we may. They're doing a lot to raise the bar for the rest of retailers, and unfortunately I think the smaller guys are really the ones who bear the brunt of it.
A lot of local, small retailers are going online. What's your advice for them?
There's two outcomes you can look for. One is to expand and sell nationally and internationally. The other is to provide an easier alternative for the people who already know your brand. 
It's a great complement, but you have to be careful about the cost side of it.
What can stores do to improve customer satisfaction this year as consumers start to expect more online?
Historically, we saw price not as a major driver of satisfaction. Last year was the first year it became a top priority for consumers. I would expect that to continue through this year with unemployment still high and many people still suffering economically.
Merchandise availability is a big part of it. In the online space it also comes down to trust and the user experience. Trust has a lot to do with it. And that's one of the challenges that the smaller retailers have. Alternative payment options can help.
The user experience has always been key. So it really comes down to people being able to navigate and find what they're looking for quickly.
Cyber Monday: overhyped or legitimate?
I think it is a little bit over hyped. A couple years ago it was really big. My sense is that it's waning a little bit.

Retailers are getting out in front of it. Last year they offered online specials even before Thanksgiving.
The part of it that's real is if you go to the malls on the weekend and do your browsing, you may go online to do your buying on Monday.
Contact AnnArbor.com's Nathan Bomey at (734) 623-2587 or nathanbomey@annarbor.com. You can also follow him on Twitter.