Posted on
Mon, Dec 6, 2010 : 6 a.m.
Ypsilanti's ex-Bombadill's Cafe to reopen with new owners as B-24's Espresso Bar
By Tom Perkins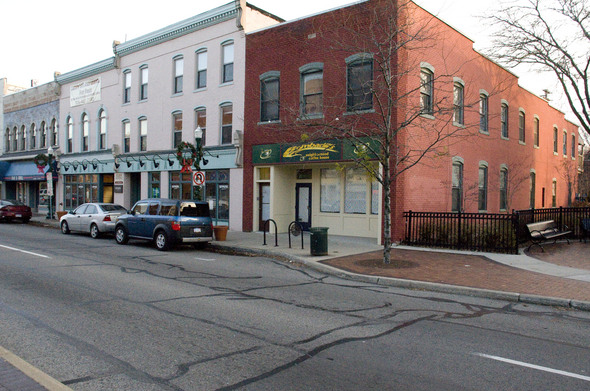 Tom Perkins | For AnnArbor.com
New owners of the former Bombadill's Cafe are inching closer to revealing what's in the works behind the downtown Ypsilanti coffee shop's closed doors and drawn shades.
The owners, Tom and Martha Rumford, have assembled a team of employees and expect remodeling to wrap up within the next couple weeks. Upon completing the makeover and attending to regulatory requirements, the Rumfords plan to unveil B-24's Espresso Bar, Eats and Entertainment.
The goal is to be serving coffee this winter, roughly six months after Bombadill's was shuttered.
But what will set B-24's apart form the three other coffee shops in Ypsilanti's downtown regions?
A focus on and passion for high quality beans, Tom Rumford says. The Rumfords and their manager, a former Bombadill's employee, describe themselves as coffee connoisseurs and are highlighting their choice of locally roasted beans from respected roasters.
Among that group are Ann Arbor roasters Roos Roast, Mighty Good and Ferndale-based Chazzano. The focus will be on pour over coffee, and plans for offering standard drip, french press and the espresso options are still being worked out.
"It will appeal to a base of coffee drinkers who are a little more sophisticated than average, so they will realize they can get good coffee from us and keep coming back," Rumford said, adding that it will still be friendly to those who are just looking for a quick caffeine fix.
Rumford hopes draw a connection with the local community — the B-24's name is a nod to the area's industrial past when the World War II bombers were made in Ypsilanti Township — and believes he has a solid location with the nearby neighborhoods, downtown business district and Eastern Michigan University College of Business.
Inside, the space will see a general overhaul, and Rumford, who owns the 100 year old building, plans to highlight the structure's features, such as its original maple floor. A new coat of paint softens the walls, new table tops are planned, and the floor layout will be slightly different.
"I think it will have a familiar feel, although it will have a different theme," Rumford says. "We're trying to continue to make it a comfortable place."
Food-wise, expect made to order sandwiches, bagels, in-house baked goods, ice cream, soups made from scratch and other menu items with an emphasis on quality, and — when possible — local ingredients.
All the former Bombadill's baristas have been asked to join B-24's team, and Rumford says one of the shop's strengths will lie in a knowledgeable and enthusiastic staff.
No live music schedule is set, but Rumford said one will find singer/songwriters and other coffehouse-friendly musicians.
The Rumfords own the building at 217 W. Michigan Ave. at which Bombadill's owner Peter Rinehart leased the first floor for six years. Upstairs are three apartments, and the Rumfords also rent a house on Hamilton Street closer to Eastern Michigan's campus. Rumford declined to say why Rinehart closed shop, and AnnArbor.com was unable to reach Rinehart for comment.
After the first floor became vacant, the Rumfords entertained several business ideas but ultimately decided they love coffee and said they believe they can succeed by offering a high quality product in a downtown location.
"The base remains, and it's an excellent place to come for a good cup of coffee. It's in a good location, it's a cool spot, so we're going to try to make the numbers work, and we think we got a formula to do it," Rumford says.
Tom Perkins is a freelance writer for AnnArbor.com. Reach the news desk at news@annarbor.com or 734-623-2530.