Posted on
Wed, Jan 23, 2013 : 12:42 p.m.
Tech company PRIME Research leases majority of ex-Borders store's second floor
By Ben Freed
Melanie Maxwell | AnnArbor.com
Many blamed technology and the Internet for bankrupting Borders, but the same forces are filling the empty flagship building the company left behind in downtown Ann Arbor.
PRIME Research North America signed a long-term lease for approximately 16,000 square feet of office space on the second floor of the former bookstore. The company joins Barracuda Networks in creating a tech hub at the corner of Liberty and Maynard streets.
Get Ann Arbor news in your inbox
Keep your finger on the pulse of the Ann Arbor business community by signing up for the Business Review newsletter sent out early every Thursday morning. You can also sign up for the daily 3@3 email to see our best local stories every day.
PRIME's analysts use benchmarks developed by academics to determine the effectiveness of a company's communications efforts and public relations campaigns.
PRIME's accounting manager Julie Myers-Beach said the company's old space at 213 S. Ashley St. was no longer big enough to hold its 80 employees and that people were "practically sitting in each other's laps" at work.
The new space will triple the company's footprint, allowing current employees to spread out and the company to look toward gradual expansion.
"The office is designed to hold 150 people," PRIME's Ann Arbor office director Timo Thomann-Rompf said.
"We will be moving in this summer with our current 80 to 90 employees, and we plan to eventually grow to fill the space."
Jim Chaconas and Brendan Cavender of Colliers International Ann Arbor listed the building and represented PRIME in the deal. The new office's footprint will cover about 85 percent of the second floor and Cavender said that another tenant is in final negotiations for the remaining office space.
"This is really a great development for the whole area," he said.
"The technology companies here are fueling growth in the retail and restaurant spaces as the new young employees move into the space. With Barracuda, Menlo, Google, and now Prime Research, you have a real density here of tech companies."
Chaconas said the communications consulting firm was the first potential tenant to express interest in the space and they carried that enthusiasm through the lease negotiations and signing.
"Julie called me the first day I put up the signs back last July," he said.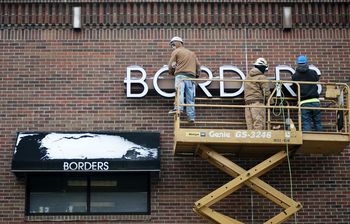 Daniel Brenner | AnnArbor.com file photo
"She said she wanted to see the space and we weren't even ready to show it yet… We get calls constantly from people looking for space downtown and this was one of the last of the large footprints so there were definitely others interested."
PRIME's offices in Ann Arbor are their North American headquarters, with other offices in New York City and Chicago. The company is based in Mainz, Germany, and the owner was involved in hunt for a new Ann Arbor location.
"From the very beginning, he [Rainer Mathes] was extremely hip to wanting this space," Myers-Beach said.
"… Our analysts spend all day looking at computers, we needed to have a bigger open space with a lot of natural light to help with retention, otherwise they would burn out."
Thomann-Rompf said PRIME began designing the new offices months before the lease was signed. The plans include a lot of open space, large windows and conference rooms with glass walls.
"We don't really invest a lot in advertising or marketing, so our offices really make a statement for us," he said.
"We want them to be open, light, and modern, because that message then transfers over into our services. We often invite our clients to come visit our because they reflect the kind of innovative services we'll be providing."
Oakland County developer Ron Hughes is renovating the 44,000-square-foot former Borders building and plans to lease the first floor to retail tenants. According to marketing materials, the asking price for the office space being rented by PRIME was an annual $24 per square foot. The asking price for the first-floor retail spaces is an annual $45 per square foot.
"The retail and everything here is just made so much better by the density of employees, and especially young employees," Chaconas said.
"Everyone used to want to be near Main Street, now it's here, this corridor. Maynard Street used to be dead, but now it's hopping. It's not quite State but it's almost Liberty and at least as good as William."
The space is currently being renovated, with many of the interior walls already knocked out. PRIME plans to move into its new home in late June or early July of this year.
Ben Freed covers business for AnnArbor.com. You can sign up here to receive Business Review updates every week. Reach out to Ben at 734-623-2528 or email him at benfreed@annarbor.com. Follow him on twitter @BFreedinA2