Posted on
Tue, Nov 9, 2010 : 2:45 p.m.
Former Pinball Pete's property ready for change on South University - eventually
By Paula Gardner
News that the owners of Pizza House are marketing the development rights above that business for a student-housing high-rise raises questions about another one of the Ann Arbor family's other properties: The former Pinball Pete's on South University.
The small building at 1217 S. University — which sat on just 0.08-acre — burned in 2009 after an arson fire.
Today, it's just an empty lot — and a development opportunity for the Tice family of Ann Arbor. But what it will become, and when, remains an unanswered question.
The fire prompted the building to be demolished, and now the family is just holding onto it.
"We really like that piece of property," co-owner Dennis Tice said.
That property once signified the redevelopment potential for the South University corridor, a location where building turnover was rare.
The old Pinball Pete's building was bought by the Tice family in 2001 for $700,000.
They later listed it for $1.2 million in 2004, as the city was undergoing the early stages of a development boom near the University of Michigan campus and high-rises were becoming possible thanks to zoning revisions.
"It probably wasn't worth what we paid for it, but we looked at it as a long-term opportunity," Tice said.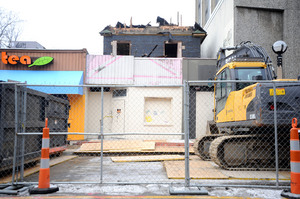 File: Angela J. Cesere | AnnArbor.com
Today, the property is valued at $239,000, according to city estimates. And the Tices continue to consider what it could become.
Change is starting to take hold around South University again, after the economy chilled potential development. The 601 Forest high-rise is moving forward, with the existing businesses on the site — like Village Corner — moving out and demolition permits ready.
The Pizza House proposal is attracting interest since plans already were approved to add the tower above the existing restaurant.
And the proximity to campus keeps property there in demand. One speculator has a building listed at 1121 S. University, occupied by Stucchi's, at the asking price of $1.6 million after paying $1.25 million for it earlier this year, according to city records. The land is 0.08-acre.
As for the former Pinball Pete's — it's still known by that name, even though the business moved across the street and the building is gone — future movement on the land could serve as an indicator of just how much developers want to go vertical on South University.
While some people have approached the Tices about a purchase, "there's nothing serious," Tice said.
"We have some ideas for down the road," he added.
And as for offers, "We would consider one, but we're not actively marketing it."
Paula Gardner is Business News Director of AnnArbor.com. Contact her at 734-623-2586 or by email. Sign up for the weekly Business Review newsletter, distributed every Thursday, here.