Posted on
Fri, Dec 14, 2012 : 5:59 a.m.
Former U-M basketball captain founds clothing line with an eye toward community service
By Ben Freed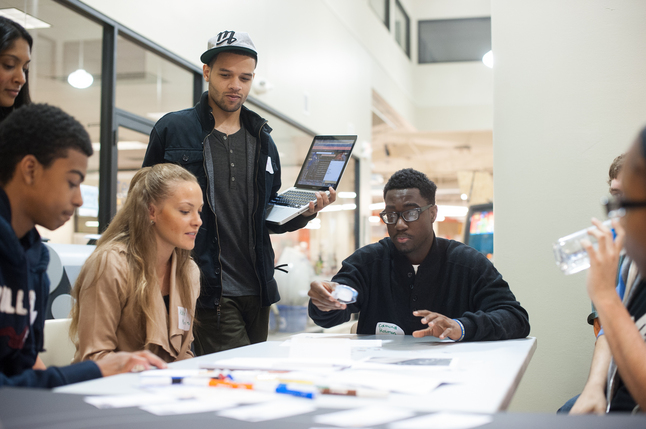 Courtney Sacco | AnnArbor.com
David Merritt
does not give up.
He didn't give up when he didn't make the University of Michigan basketball team the first two times he tried out. He didn't give up when, as captain of the team, the Wolverines broke a 12-year tournament drought.
Reversing the trend of underprivileged and underserved students dropping out of high schools across America is a daunting task, but Merritt is going to give it his all. And he's not going to give up.
Merritt founded and runs the cause-based clothing line Merit (yes, with one "t"), combining entrepreneurship with community activism by donating both proceeds and time to helping underprivileged high school students.
"We believe that all companies should have a cause," Merritt said.
"They should be able to make money and make an impact on the community level at the same time. If you look at TOMS Shoes or other similar ventures, there is a great market for these types of companies."
Merit currently is in the midst of a campaign on indiegogo, a crowdfunding site similar to Kickstarter that allows for proceeds to be donated to charities.
"We have the full cut and sew line ready to go, and we have samples. Now we're trying to raise the money to produce the line in real production quantities," Merritt said.
"It's very tough for a company at our stage to produce our product in the United States. We've made the connections we need to do so, it's just a matter of having the capital on hand to go out and make it."
As of Thursday morning, the capital campaign had raised $4,852 of the $30,000 goal. Unlike Kickstarter, the campaign's goal does not have to be met for the company to use the funds.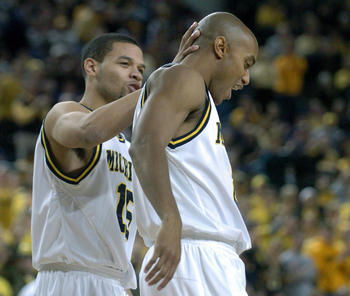 Lon Hordwedel | Ann Arbor News
Merritt entered the socially-conscious clothing space shortly after graduating from U-M in 2009 with a sports management degree with a
clothing line entitled IMU
. The line, which stood for "I Miss U" was created with the idea that customers would form a connection with the brand and the cause by doing service hours in return for discounts.
In early 2011, after 18 months and $50,000 of revenue through online-only sales, Merritt and his co-founder Kuhu Saha decided to reevaluate their company.
"We had had success, but there were also some milestones that we didn't hit," Merritt said.
"We were asking ourselves, 'how do we become sustainable?' We went out and talked to customers, to get a better idea of what we needed. We looked at our brand, our product, and our messaging."
Outside consultants recommended renaming the brand "Merritt," but that seemed counterintuitive to the founder.
"This brand is all about selflessness, stepping outside, and giving back. It wouldn't make sense for it to be about me," he said.
"I said, 'why don't we call it the world 'merit,'' which is something that you're doing that deserves honor or esteem. It made a lot more sense considering what the focus of our company was."
In addition to a new name, the company found a new designer to help revamp the primary product — its clothes. Merritt was introduced to fellow Detroit native Nzimiro Oputa, who finished as a runner up on NBC's Fashion Star, through a mutual friend.
Oputa, who did not go to school for fashion and is an engineer by day, designed the new Merit line, which features shirts, pants, and a variety of sweaters and hoodies. The clothes currently can be purchased as "gifts" through donating to the indiegogo campaign.
Alongside the new clothing line, Merit (and Merritt) launched a new FATE program at the Jalen Rose Leadership Academy charter school in Detroit. The program, run by Merritt and Saha, will follow 22 current freshman throughout their high school experience.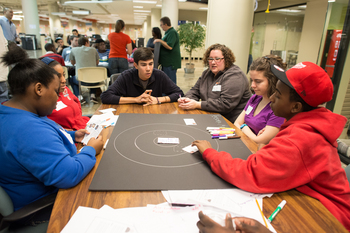 Courtney Sacco | AnnArbor.com
"Once a month we are going to take these kids to Ann Arbor for different programming and workships," Merritt said.
"The same students stay in the program all four years, and when they graduate there will be a guaranteed scholarship. We think we get underserved youth to embrace education and become world class citizens by exposing them to higher education and other experiences that will motivate them to succeed."
On Dec. 1, the students visited Menlo Innovations where employees led them on a crash course in entrepreneurship.
"We took them through a lot of techniques that we use in our company every day," Menlo CEO Rich Sheridan said.
"We wanted to give them an idea of what it would be like to start their own company, to build their own product. We did a lot of brainstorming and idea creation with them."
Merritt hopes to expand the FATE program across the country and to keep emphasizing service and community as he continues to donate 20 percent of all revenues from his clothing line.
"David really has a heart for these kids. He wants to expose them to the world so that when they leave high school, they'll go on to college and build a great life for themselves," Sheridan said.
"He has a deep, abiding passion for what he's doing… Whatever you chose to do, if you don't have a passion, you'll give up too easily."
Fortunately for the 28 percent of America's high school students who statistics say will drop out of school before graduation, David Merritt does not give up.
Click here to visit Merit's indiegogo campaign page.
Merit released its brand campaign video Dec. 4:
Ben Freed covers business for AnnArbor.com. You can sign up here to receive Business Review updates every week. Reach out to Ben at 734-623-2528 or email him at benfreed@annarbor.com. Follow him on twitter @BFreedinA2