Posted on
Sat, Jan 8, 2011 : 6 a.m.
Fox Tent closing leaves downtown Ann Arbor property for sale as potential development site
By Laura Blodgett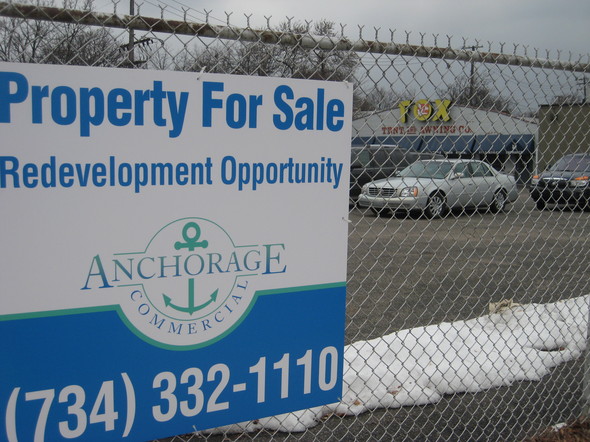 Laura Blodgett | AnnArbor.com
Fox Tent & Awning Company, the long running tent rental and custom canvas provider located at 617 S. Ashley in Ann Arbor, closed at the end of December.
Now both the business and the property are for sale, said Larry Zahn, co-owner of Anchorage Realty, who is representing the property.
"This has been a family run business and Ann Arbor landmark for years," said Zahn. "The current owners David and Becky Fox have retired and decided to put it all up for sale since they didn't have anybody in the family to take over the business."
Spanning nearly the entire block, the one acre parcel is bound by South Ashley, West Mosley and South Main St., across from South Main Market on one side and Washtenaw Dairy on the other.
The property includes the entire parking lot on the south end of the block as well as the three buildings currently occupied by Fox Tent, Delux Drapery & Shade Co., and Affordable Vet Services. Those two tenants are occupying their respective spaces under one-year leases starting this month.
The listing has the potential to drive larger-scale development on South Main Street.
Zahn said this property could be the very first parcel to appear under the new D-2 zoning district between downtown and the Old West Side neighborhood, with the potential to be turned into mixed-use development.
"It's a real interesting opportunity for somebody to come in and do a design development for that corner which would anchor the entrance to the city from that point of view," says Zahn.
The property has already drawn interest, with Zahn receiving two potential offers. There is no official list price for the property.
"Because of the zoning, we feel that each party who would be interested to make a submittal will do so based on what they believe they can develop the property into," explains Zahn.
In the brochure that was just mailed to potential developers, Zahn highlights the fact that the property is close to Michigan Stadium and within walking distance to downtown.
"It isn't all that far away from U of M's central campus area either, although whether it becomes transitional new residential housing for students I'm not so sure," says Zahn.
The property also just blocks from one development bid that failed: The Moravian, which was denied by City Council in 2010.
"I'm quite excited to see how developers are going to look at this in terms of this new zoning. It offers an interesting opportunity for potential new development in a part of town where property has not been available for sale for years."