Posted on
Tue, Apr 9, 2013 : 1:19 p.m.
Free Cone Day: Ann Arbor's Ben & Jerry's offering free ice cream on Tuesday
By Lizzy Alfs
The University of Michigan basketball team may have lost the national championship to Louisville, but Ann Arbor fans in mourning can be comforted with free ice cream on Tuesday.
"Ice cream makes everything happier," joked Matt Arthur, franchise owner of the Ben & Jerry's ice cream shop at 304 S. State St.
Melanie Maxwell | AnnArbor.com
The downtown Ann Arbor Ben & Jerry's is hosting its annual "Free Cone Day" from 12 to 8 p.m. on Tuesday, where each customer can get one free ice cream cone. It's part of an international event organized by the Vermont-based retailer to thank its customers.
"The phone is ringing off the hook," Arthur said. "We can't answer, we just have to set it to voicemail."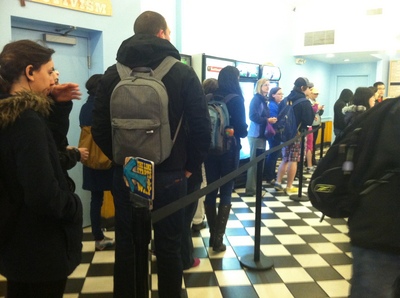 Lizzy Alfs | AnnArbor.com
People started trickling into the store on South State around noon, and by 12:30 p.m., a line was forming outside the store. Arthur anticipates the line will be longest — stretching down the block of South State Street to 7-Eleven — around 4 p.m., when many University of Michigan students are leaving class for the day.
"People were out late last night," he said. "They'll come a little later."
Arthur estimated that his store will give away about 4,000 free ice cream cones, although the 50-degree and slightly rainy weather could mean less people are willing to wait in line.
Arthur has 10 employees working, in addition to volunteers from the U-M Transplant Center. If customers upgrade to a waffle cone for $1, the proceeds go to the Transplant Center.
Lizzy Alfs is a business reporter for AnnArbor.com. Reach her at 734-623-2584 or email her at lizzyalfs@annarbor.com. Follow her on Twitter at http://twitter.com/lizzyalfs.