Posted on
Mon, Jun 13, 2011 : 5:09 p.m.
Freight company cuts Amtrak trains' speed to as slow as 25 mph, sparking delays
By Nathan Bomey
The freight company that owns the railroad tracks that carry Amtrak trains through Ann Arbor said today that it is restricting the speed those trains are allowed to travel, cutting the rate to 25 miles an hour in some parts.
The decision means that travelers on Amtrak's Wolverine line may experience 90-minute delays on the trip from Kalamazoo to Dearborn, Amtrak said. Passengers need to check with Amtrak before heading to the station for their trips.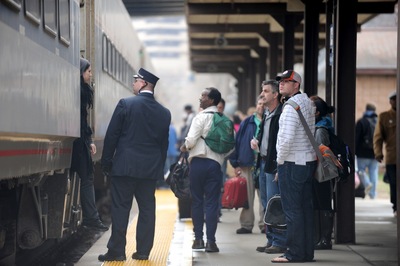 Angela J. Cesere | AnnArbor.com
Trains will be reduced to traveling as slowly as 25 miles per hour in some areas, said
Rudy Husband
, a spokesman for
Norfolk Southern Railway
in an interview.
The Ann Arbor stop on Depot Street is the busiest station between Detroit and Chicago.
Husband said Norfolk would only pay the maintenance costs necessary for the tracks to handle trains traveling 25 to 60 mph between Kalamazoo and Dearborn. Norfolk owns those lines.
"If they want to make the Michigan line a passenger route with higher speeds than what freight trains run, then someone other than Norfolk Southern is going to have to pay for the increased maintenance costs," Husband said. "We have been trying to work out a solution to this for a very long time now. But in the meantime we're doing what needs to be done to be responsible to our customers and our shareholders."
The decision comes a month after the U.S. Transportation Department announced that Michigan would receive $196.5 million in high-speed rail dollars to improve the Dearborn-to-Kalamazoo tracks. Those improvements would allow trains to travel at speeds of up to 110 mph.
"The money the state's receiving will correct this problem," Marc Magliari, a Chicago-based spokesman for Amtrak, told AnnArbor.com today.
Still, Husband said the speed restrictions would last indefinitely.
According to Amtrak's service alert, the restrictions affect passengers boarding trains 350, 351, 352, 353, 354 and 355 between Kalamazoo and Dearborn.
The Wolverine line, which runs from Pontiac through Detroit and Ann Arbor to Chicago, reported a 16.3 percent increase in passengers from October through March, according to figures from the Michigan Department of Transportation. More than 243,185 passengers traveled the line during that period as ticket revenue rose 21 percent to $9 million.
Contact AnnArbor.com's Nathan Bomey at (734) 623-2587 or nathanbomey@annarbor.com. You can also follow him on Twitter or subscribe to AnnArbor.com's newsletters.