Posted on
Fri, Jan 29, 2010 : 6:01 a.m.
French-Asian restaurant Mercy's now open in Ann Arbor's Bell Tower Hotel
By Erica Hobbs
Erica Hobbs | AnnArbor.com
Ann Arbor's
new French-Asian restaurant promises to be a completely different dining experience, owners
Steve and Mercy Kasle
say.
Their new restaurant,
Mercy's
, replaces
The Earle Uptown
at the
Bell Tower Hotel
 at 300 S. Thayer St. The Kasles say the space has been completely renovated, including a brand new bar, lighting and custom-made booths. It had a soft opening for family and friends Jan. 22.
"We've always wanted to create something that could be great in a restaurant experience," Steve Kasle said. "Hopefully, we'll be able to achieve that with Mercy's."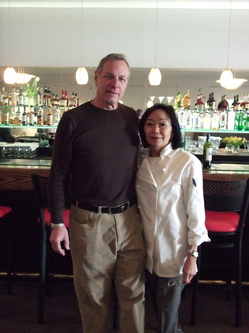 Erica Hobbs | AnnArbor.com
The couple formerly owned the
Kerrytown Bistro
, a French-inspired restaurant in downtown Ann Arbor. While some of the Bistro's French flavors are carrying over to the new restaurant, Mercy's cuisine also features many Asian options, including several recipes from Mercy Kasle's native Burma and a number of fusion dishes.

"We want (patrons) to be totally enthralled with the food," she said. "It's unique. They won't get it anywhere else in Ann Arbor."
Mercy's entrées, which range from $15 to $34, include dishes such as coriander-dusted sea scallops, rack of lamb de Provence and maughinga, a Burmese fish soup. Starters include cashew chicken compote, goose mousse paté and honey-lime glazed ginger chicken on rosemary skewers, all from $5 to $15. Mercy's also offers a full bar with more than 40 selections of wine.
"Our prices represent a real bargain for anyone who's interested in fine dining," Steve Kasle said.
While Mercy's is currently only open for dinner, Steve Kasle said he hopes to start serving lunch by the beginning of April. He said the menu would a modified version of the dinner menu, but would be designed for a quicker turnover.
"People will come in and be out in 45 minutes or less," he said. "Until we can do that, we do not feel we should open for lunch."
Mercy's is open for dinner from 5:30-9 p.m. Tuesdays-Thursdays and 5:30-10 p.m. Fridays and Saturdays, with the bar open at 4 p.m. Tuesday- Saturday.
Steve Kasle said the restaurant will open on Sundays for special occasions, such as Valentine's Day, and during events at Hill Auditorium and the Power Center.
He said Mercy's is planning a grand opening for the beginning of March.
Erica Hobbs is a reporter for AnnArbor.com. Reach her at ericahobbs@annarbor.com or 734-623-2537.