Posted on
Wed, Feb 13, 2013 : 5:58 a.m.
From duck hearts to white chocolate mashed potatoes, Ann Arbor restaurants love Valentine's Day
By Janet Miller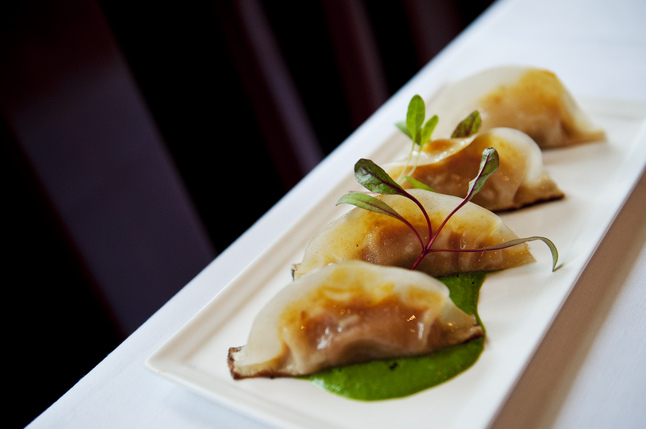 Daniel Brenner I AnnArbor.com
When Brandon Johns was putting together his four-course tasting menu for a special Valentine's Day dinner at
Grange Kitchen & Bar
, he wanted to focus more on the food than the holiday. "When we do special menus, I like to do things different, more upscale," he said. "But I didn't deliberately go through and chose things that were romantic."
But Johns, known for using the whole animal and unusual cuts of meat, wasn't above giving a nod to the lovers' holiday: One option on the $55 prix fixe menu will include duck heart.
While Mother's Day and New Year's Eve attract crowds of families and friends, Valentine's Day is for couples, Ann Arbor restaurant owners said. "Other holidays, we get families: Four, six, eight to a table," said Michael Roddy, owner of Paesano restaurant. "On Valentine's Day, it's deuce-city. You don't want to share your love with anyone else. It's the night where couples sit on the same side of the booth."
From tables dusted with rose petals to desserts meant to share, Ann Arbor restaurants are rolling out Valentine's Day menus aimed at romance. Customers respond: Not only is it one of the busiest nights of the year, a number of restaurants report that they usually participate in at least one marriage proposal on Valentine's Day.
Last year, a customer arrived earlier in the day to give Roddy the engagement ring he was going to present to his girlfriend that night. "He wanted it on top of the spumoni ice cream, which was his girlfriend's favorite," Roddy said.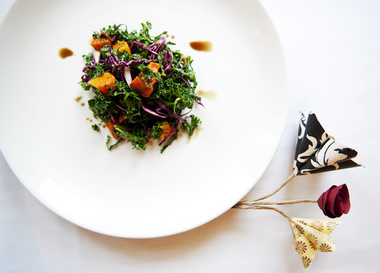 Daniel Brenner I AnnArbor.com
Johns said at least one reservation for this year came along with a note that it would be a proposal. "Sometimes, they want us to bring the ring out on a plate, but most of the time they just want a nice table," he said.
The Melting Pot is known year-round for its romantic setting, said Ashleigh Terrazas, hospitality specialist at the downtown fondue restaurant. For an additional charge, they supply rose petals, floating candles and a dozen roses delivered to a table. They even have a row of private, two-person booths known as lovers' lane, she said.
That brings out the crowds on Valentine's Day, their busiest day of the year, Terrazas said. About 95 percent of Valentine's Day diners will be couples, she said. They'll off a prix fixe that will run the entire week: With only early and late reservations still available for Thursday, they see Valentine's Day overflow on Saturday and Sunday.
Valentine's Day will double the average receipts of a typical Thursday, said Paesano's owner Roddy. That's why it's best when the holiday falls on a weeknight. "It's like having and extra weekend day," he said.
Paesano's will roll out a number of specials just for Valentine's Day, said executive Chef David Whitney. "We try and do food that people can split, like Land, Sea and Air, a dish that will include quail, wild boar sausage and shrimp." He works that quintessential Valentine's Day food - chocolate - in wherever he can, even beyond desserts. Take, for instance, a spinach salad with strawberries with a light cocoa vinaigrette dressing. Or the white chocolate mashed potatoes.
Melange Bistro general manager and co-owner Laura Wanke said there will be complimentary champagne and chocolate-dipped strawberries for Valentine's Day at the downtown restaurant. And while they will offer their regular menu, the specials will be geared toward the holiday: A stuffed chicken dish and a lobster trio.
About half of Valentine's Day diners are first-timers and may not be used to more experimental dishes, Wanke said. "They may not be used to duck confit. We add dishes that are special, but something they'll recognize."
Whatever customers order, it's a busy night, Wanke said. A normal Thursday night brings 50 to 75 diners. Melange expects between 200 and 275 guests this Thursday.
And, of course, there will be chocolate for dessert. "Chocolate goes over very well on Valentine's," said Chris Wanke, executive chef and co-owner. "It's hard to scare people away with chocolate."
Janet Miller is a freelance reporter for AnnArbor.com.