Posted on
Sun, Feb 12, 2012 : 5:59 a.m.
Valentine's Day: Ann Arbor businesses brace for last-minute rush
By Lizzy Alfs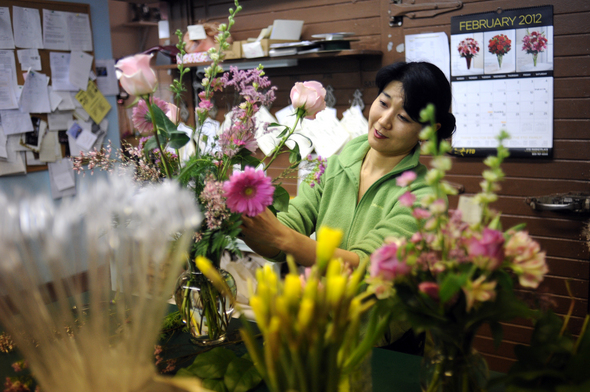 Melanie Maxwell | AnnArbor.com
Since mid-January, the owner of downtown Ann Arbor's
Chelsea Flower Shop
has been taking orders, arranging flowers and prepping for her busiest day of the year:
Valentine's Day
.
Nobuko Sakoda said sales "dramatically increase" in the weeks leading up to the holiday, and people start placing orders in January to ensure their flowers will be delivered.
Tuesday will be a nine-hour rush where her delivery team will drop off dozens upon dozens of red roses, spring bouquets and other flower arrangements, Sakoda explained.
"We actually suspend our computers that print out orders on the actual Valentine's Day," she said. "We cannot keep taking them because our delivery people cannot handle it."
The National Retail Federation predicts total U.S. spending to reach an all time high at $17.6 billion this Valentine's Day, with the average person spending $126.03 to celebrate, up 8.5 percent over 2010.
Jewelry spending is expected to reach $4.1 billion, followed by $3.5 billion on an evening out. Other popular gifts include flowers, candy, clothing and gift cards. NRF also predicts men will spend double that of women this holiday.
"I would say business doubles on Valentine's Day," said David Lewis, owner of Ann Arbor's long-time Lewis Jewelers on West Stadium Boulevard. "I think this Valentine's Day will be very strong."
Lewis said in the days leading up to Valentine's Day and on the actual holiday, he sees mostly men come in the store, with many buying "last-minute gifts."
He also noted that Valentine's Day spending doesn't seem to slow down with economic changes.
"It's one of those holidays that people spend money no matter what," he said.
Nobuko added: "On Valentine's Day, it seems like people just don't care about the economy. People don't consider it."
According to an American Express survey, 4 million Americans are expecting to propose or be proposed to on the romantic holiday this year, accounting for a portion of the Valentine's Day spending.
Aside from diamond necklaces and bracelets, Lewis said engagement rings are the most popular items in the store this time of year.
Jim Hart, owner of Seyfried Jewelers in downtown Ann Arbor, agreed: "It's a big day for getting engaged and we already have a couple engagement rings sold."
After Christmas, Hart said Valentine's Day is the busiest day of the year for Seyfried Jewelers.
"There aren't too many different holidays that men are supposed to get gifts for women, and this is one of them," he said. "Men are usually last-minute shoppers, so we'll have guys come in here on Monday and Tuesday buying things right up until we close."
Sue Burke, district manager for Ann Arbor's Gratzi and The Chop House, said she expects people to celebrate Valentine's Day the entire week surrounding the holiday.
"A lot of people work the next day, so they'll move their celebration to the weekend before or the weekend after," she said.
She added that both restaurants are almost entirely booked on Valentine's Day, and they generally are at maximum seating capacity at "every increment" of the night.
"It's rare that we have an open reservation, but we're always willing to take walk-ins should someone cancel," she said.
And for many of the employees at the restaurants, it can be a "really fun" day to work because the waitstaff is often included in peoples' proposals, Burke said.
"We're always given interesting ways to present a ring," she said. "Whether it's in a champagne glass, or in a dessert or to serve it as an entree under a plate cover; we've had so many amazing reactions."
She added: "We do have a lot of repeat business from people that did get engaged in a romantic setting such as Gratzi."
Lizzy Alfs is a business reporter for AnnArbor.com. Reach her at 734-623-2584 or email her at lizzyalfs@annarbor.com. Follow her on Twitter at http://twitter.com/lizzyalfs.