Posted on
Thu, Nov 18, 2010 : 6:02 a.m.
Natural, free-range, organic, heritage birds: Retailers report rise in fresh turkey sales for Thanksgiving
By Janet Miller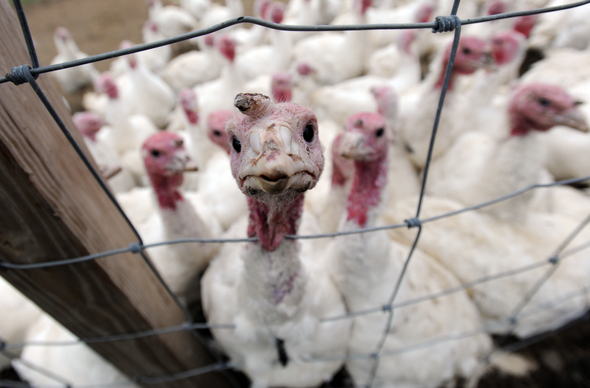 Lon Horwedel | AnnArbor.com
In the beginning there was
Butterball
and Butterball was the word when it came to Thanksgiving Day turkeys.
But the world has changed. Food-savvy Ann Arbor shoppers started demanding fresh. And then natural. Free-range and then organic followed. The latest Thanksgiving Day turkey trend is heritage birds, turkeys linked to early-American flocks.
And as a result, fresh turkeys are flying off Washtenaw County store shelves: Arbor Farms Market has seen sales increase 10-fold in the past six to eight years, said co-owner Robert Cantelon.
As the local and slow-food movements grow, so do fresh turkey sales at the People's Food Coop, said Kevin Sharp, marketing and membership manager.
"Once people start eating fresh, they say it's the best turkey they've ever had. It ruins you for the frozen, mass produced turkeys."
While smaller grocers are known for selling the niche birds, turkeys present the same business strategy as the mega-chains: Turkeys bring shoppers into the store, where they will buy the rest of the holiday fixings. They also introduce new customers to the store and they create store loyalty.
While some of the national chains sell turkeys as a loss leader - Walmart last year sold select frozen turkeys at 40 cents a pound - local markets selling fresh birds stop at that practice.
However, many do have narrower margins on turkeys between wholesale and retail costs, with some just breaking even.
There's no doubt that fresh, free-range, certified-humane, hormone- and antibiotic-free local birds cost more: A recent price at an Ann Arbor Kroger for a Butterball was $1.29 a pound, with a promise that it would drop before Thanksgiving. The average price for a turkey last year, according to the American Farm Bureau Federation, was $1.19 a pound. Fresh turkeys range from $1.99 for a natural turkey to $3.99 for an organic bird. Heritage turkeys can run more than $100.
In the early 1980s, Arbor Farms was one of the first local markets to sell fresh turkeys, Cantelon said. It wasn't until the 1990s that larger stores and chains hopped on the fresh bird bandwagon, he said, and natural turkey producers such as Peacock's Poultry Farm began to grow. A new niche surfaced as customers began demanding turkeys from smaller and local farms.
"Peacock is a big company. It's a good turkey, a fresh turkey. But you can't say which farm your turkey is from," Cantelon said. "The buy-local movement gained steam and people wanted to know where their turkey was from, they wanted to buy from the little guy."
Three years ago, Arbor Farms contracted with an Amish farmer in Homer, near Jackson, to raise 100 turkeys. This year, the farmer is raising 700 turkeys, with most of them going to Arbor Farms.
The food coop offers two brands of fresh, natural, mid-priced birds, Sharp said, ranging from $2.29 to $3.19 a pound. It expects to sell at least 150 turkeys this Thanksgiving. It also makes little money off turkey sales, he said.
"By the time you factor in labor, we're not making any money, but that's OK."
The coop abandoned selling heritage birds after three years, even though sales had increased. It was still a small market, Sharp said.
"There was the question of whether there was the clientele for $100 to $130 turkeys during these economic times. When I first looked at the price, I thought it was wild. But then I raised my own and now I understand it. They take twice as long to raise. That's twice as much food and water."
Morgan & York wine and specialty food shop has been exclusively selling heritage turkeys for eight years, said Sean Hartwig, manager. It was the only way to bring consistent quality and dependable sizes to fresh turkey sales, he said.
"Holiday meals are special. For some people, it's the only time they cook. We don't want to goof that up. We're a small store."
The store sells two varieties of heritage turkeys - red bourbon and bronze bourbon - raised on a Kansas farm. And yes, they are expensive, Hartwig said. The average heritage turkey is $10 a pound.
The Produce Station began selling fresh turkeys 15 years ago as a way to make the store a one-stop shop for Thanksgiving, said Andy Gorsuch, general manager.
"In the beginning, they just wanted a fresh turkey. For the past several years, they've wanted more information: The feeding practices, the number of birds on the farm, if they are hormone-free."
As the Ann Arbor natural foods market has heated up, Arbor Farms had to carve another niche, Cantelon said, by developing their produce, deli and meat lines. Today, Arbor Farms offers four varieties of fresh, natural turkeys.
"We do a great job with turkeys," Cantelon said. "That's the ticket to the food business: How many times can you get people coming back?
"The holidays are a great opportunity to convert customers into becoming frequent shoppers. We see the bump in February and March. It's not just the bump we see during Thanksgiving week."