Posted on
Sun, Feb 3, 2013 : 5:59 a.m.
Future of Ann Arbor auto shop unclear after brewpub owners purchase building
By Lizzy Alfs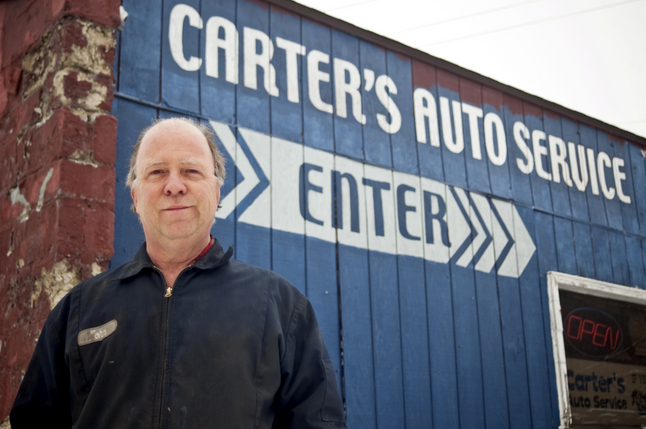 Joseph Tobianski | AnnArbor.com
Editor's note: The name of the building owner has been changed to reflect the most recent information available on state records.
For John Carter, it's business as usual at Carter's Auto Service on Ann Arbor's Old West Side, but change could be coming to his 16-year-old repair shop following a building acquisition last year.
City records show the building, located at 507 and 509 S. Ashley St. in the Old West Side Historic District, was sold in August for $225,000 to AQRE529 LLC, registered to Joel Flowers. Flowers is involved with a number of Michigan companies, including Iridium Consulting LLC and Big Buck Brewery & Steakhouse.
Now, Carter said he's operating on a month-to-month lease and was told by the new owners he might have to vacate the space.
"When they first bought this place in August, (the new owners) said at any point when they give me notice, I have to be out in two months time…they believe they're going to turn this into a brewpub," he said.
Carter, also a part time instructor at Washtenaw Community College, opened Carter's Auto on South Ashley Street in 1996, replacing the long-time Ashley Auto. He was leasing the space month-to-month from Ashley Auto owner Daniel Lyons, who died several years ago, and later from a Lyons family trust. Carter said he shared the building with TC Auto for years, until the owner moved out a few months ago.
The 3,616-square-foot building was listed for sale in 2011 with Colliers International Ann Arbor.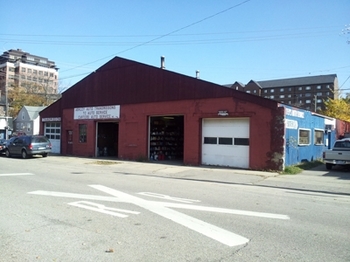 Photo from Colliers
If Carter is told by his new landlords to vacate the building, he hopes to open another auto shop nearby.
"I could be staying indefinitely. I don't know yet," he said. "But I'm actively looking around for another location. It would need to be close by in order for my customers to follow me."
The new building owners did not return multiple requests for comment throughout the past several months. It's unclear what their plans are for the building, and no permits have been filed with the city of Ann Arbor. City planning manager Wendy Rampson said planning staff discussed brewpub plans with the owner more than a year ago, but the city hasn't heard anything since that time.
Because the Carter's Auto Service building is located in the city's Old West Side Historic District, all plans would require approval from the Historic District Commission. Carter said the building needs "major improvements," including infrastructure repairs to fix leaks.
The property is located in the city's D2 zoning. It's also located in the floodplain, meaning there are certain restrictions on building renovations or expansions. Jerry Hancock, the city's stormwater and floodplain programs coordinator, said an expansion to the building would be extremely difficult, but it could be renovated as long as plans receive approval from the HDC.
Founded in 1995, Big Buck Brewery & Steakhouse once operated several brewpubs in Michigan and one in Texas. The only remaining restaurant under the Big Buck name is in Gaylord after a series of financial troubles for the company, several leadership changes, plummeting stock, a bankruptcy filing, and eventually going private.
According to a Detroit Free Press article from 2004, the Wayne County Employees' Retirement took a $6 million hit from the Big Buck bankruptcy. The county pension system had invested $12 million in the brewpub chain prior to the filing.
The Big Buck Brewery & Steakhouse website says the company makes a line of liquid products, including artisan spirits, beer, wine, soda and cocktail mixers. "We complement our line of liquids with a casual family dining experience, quality food and excellent service," the website says.
Although Carter hasn't heard from his new landlords about their plans, he intends to continue operating his auto shop until he's told to leave. If he moves, he hopes his customers will follow him.
"I have customers going all the way back to 1983," he said. "I was fixing cars in the area for a long time before I decided to open my own business."
"I believe Ann Arbor is very attuned to the idea of shopping locally and preferring to come to a place like this rather than spending money on a huge conglomerate company that has locations everywhere," he continued.
Lizzy Alfs is a business reporter for AnnArbor.com. Reach her at 734-623-2584 or email her at lizzyalfs@annarbor.com. Follow her on Twitter at http://twitter.com/lizzyalfs.