Posted on
Sat, Sep 29, 2012 : 5:59 a.m.
Future of Ann Arbor's long-time Metamorphosis Salon unclear after Running Fit owner buys building
By Lizzy Alfs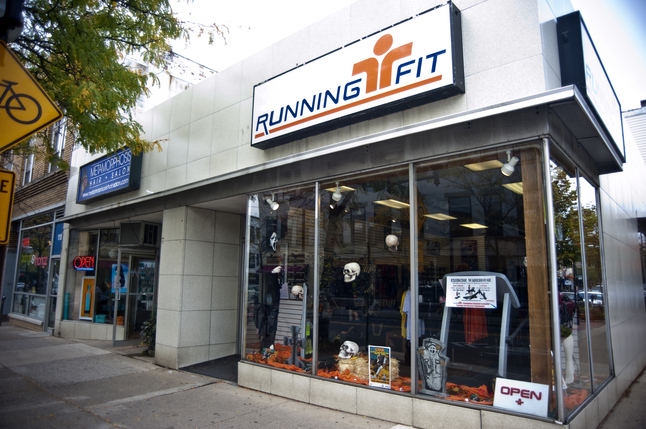 Joseph Tobianski | AnnArbor.com
Change could be coming to the corner of South Fourth Avenue and East Liberty Street in downtown
Ann Arbor
following a building sale earlier this month.
Running Fit President Randy Step purchased the 800-square-foot space at 121 E. Liberty St., which is currently occupied by Metamorphosis Salon and adjacent to his downtown store.
He purchased the space for $295,000 from Vasiliki Stamoulis, according to city documents.
As the owner of the entire 2,666-square-foot building now, Step said he is exploring the option of constructing a new building, putting on an addition or giving the building a facelift — which could include finding a replacement tenant for Metamorphosis.
"I've always wanted to own the whole building because of the air rights," Step said. "I'm one of the only one-story buildings downtown…I would like to explore the option of building above. I have met with some architects about going up."
Step is still in very preliminary discussions about the building's potential, but would be interested in adding one or two floors to the building and making exterior improvements.
"I'm not positive what the use would be yet; whatever the demand would be," he said. "I might want a community kind of room for runners and classes that take place at our downtown store. We're always tight on space."
But because the building is located in Ann Arbor's Main Street Historic District, there on limitations on what can be done. Any addition would be limited in size, would have to be set back from the building's facade and could not compromise the integrity of the structure.
City Planner Jill Thacher said because the building is non-contributing, it might be possible to demolish it and construct a new one, although any plans would need to be reviewed by the Historic District Commission.
Complicating the plans and future of the corner is a landlord-tenant disagreement over the potential of the Metamorphosis Salon space.
Darlene Strasburg has occupied the space at 121 E. Liberty St. for nearly 35 years. Despite being there for decades and investing her own money in building out the space, Strasburg has been operating on an unofficial month-to-month lease, meaning the landlord has the right to terminate the agreement at any time.
As the new building owner, Step said he offered Strasburg the option to stay in the building, but only with a rent increase.
"She's been there since the 1970s, and she's paying '70s rent," he said. "I told her I wouldn't change her rent this year, and then I offered her a reasonable rent to stay…I have not heard back from her."
He said he offered Strasburg an annual $29 per square foot plus taxes, insurance and maintenance to stay in the space — significantly more than what she pays.
Strasburg declined to comment except to say her plans are up in the air as she talks with her representatives about how to proceed. She confirmed she's been operating in the space without an official lease, but expressed interest in remaining in the building. She agreed to talk with AnnArbor.com once she knows more about her next move.
"Hopefully it will all work out," Step said. "I think her business is established and hopefully she'll stay in the space at a reasonable rent."
Lizzy Alfs is a business reporter for AnnArbor.com. Reach her at 734-623-2584 or email her at lizzyalfs@annarbor.com. Follow her on Twitter at http://twitter.com/lizzyalfs.