Posted on
Thu, Dec 6, 2012 : 5:56 a.m.
FuturTech Conference at Michigan Union will focus on digital convergence, showcase startups
By Ben Freed
Students at the University of Michigan Ross School of Business may not take engineering classes or learn how to program the latest computer chips, but that doesn't mean that they aren't interested in technology.
Business students are putting the final touches on FuturTech, which they bill as the premier technology conference at U-M. The conference, which will be held Saturday at the Michigan Union, aims to attract students from across various colleges who are interested in the tech sphere.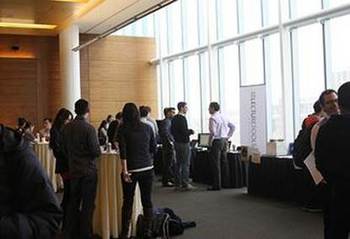 Courtesy FuturTech
"We have people in the business school who are very interested in technology, and we also have great people in the engineering and information schools who are working with all of these great new ideas," conference organizer
Phanny Duong
said.
"We want to bring all these people together and give both the students and other attendees the opportunity to talk about the trends in technology."
The trend that the conference will focus on this year is "digital convergence."
"Tech isn't just a space for the traditional 'tech people' anymore, it's promulgating every aspect of our lives," Duong said. "From social media to digital banking, everything is being done in the digital space."
Organizers are expecting about 150 students to attend the conference, the majority of whom will be from the business school. Duong said that while she tried to reach out to outside students, it has been an uphill battle to gain their involvement.
"It's a slow process, and there hasn't been quite as much interest from other schools as we would have liked," she said.
"But everything we're doing now is not building only for this year's conference but for the future as well. We hope that the conference will continue to grow, and as the brand grows it will gain more recognition and participation."
Duong said a part of the growth of the conference will be increased focus on case competitions that give students an opportunity to pitch solutions to real world business programs.
This year, the conference's keynote speaker, Deloitte Digital senior manager Bill Schick, will certainly attract the business school crowd. However, the panel lineup, which includes local tech leader Dug Song of Duo Security as well as representatives from Google, Samsung and Amazon, could pique the interest of a range of students.
"For the companies that come or send people to the conference, it's an opportunity for them to show off their latest technology to students and to possibly meet some students while they're here who could be potential employees," Duong said.
The conference also will feature a technology demo showcase from 12:30-2 p.m. that will showcase new technologies from a mix of local and student startups as well as the new Google Chromebook.
Registration for the conference is open until the day of the event, and can be accessed through the event's website. The cost is $15 for U-M students and $30 for non-students. The event has a networking breakfast starting at 8:30 a.m. with the formal portion beginning with the keynote address at 9:30.
Ben Freed covers business for AnnArbor.com. You can sign up here to receive Business Review updates every week. Reach out to Ben at 734-623-2528 or email him at benfreed@annarbor.com. Follow him on twitter @BFreedinA2