Posted on
Wed, Nov 9, 2011 : 5:58 a.m.
Gabriel's Hoagies to open restaurant in Saline
By Lizzy Alfs
Fifty-two years after Gabriel's Hoagies began serving its classic cheese steak hoagie in Ypsilanti Township, the restaurant plans to open a new location in Saline.
The owners signed a deal to open a 1,500-square-foot restaurant in The Oaks shopping center, located at 972 E. Michigan Ave. between Industrial Drive and North Maple Road. It's the company's third restaurant.
AnnArbor.com file photo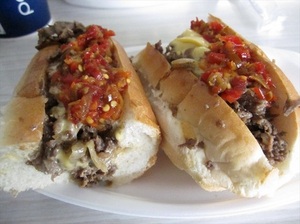 AnnArbor.com file photo
The goal is to open by the end of January, said co-owner Donnie Ballard.
"We're getting ready to build-out the space," Ballard said. "We will make it look just like the original." The space was listed with Bela Sipos of Reinhart Commercial. Retail spaces in the The Oaks complex are priced for an annual $8 to $12 per square foot.
The first Gabriel's Hoagies opened in Ypsilanti Township in 1959. The small, freestanding building has only a few tables and a simple menu, but the restaurant has remained a staple in the area.
Known for its cheese steak hoagie, Gabriel's also serves a steak hoagie, a lunchmeat special, ham & cheese and two salads.
In 2007, the owners opened a second location in a strip mall in Westland.
Ballard said they decided to open a third location in Saline because the location made sense geographically and he felt there was a demand from Saline residents.
"In Westland we went about 15 miles east of the original, and now we're going west to Saline," he said.
"And I believe that we have a lot of customers in Saline that drive out to the Ypsilanti location," he continued.
Sipos of Reinhart said the restaurant is a great fit for the 53,000-square-foot shopping center. Other tenants include the Dollar Tree and Powerhouse Gym.
"Their other locations are wildly popular," Sipos said. "And there's really nothing else like this available in Saline, so I think it's a great match for them and us."
Lizzy Alfs is a business reporter for AnnArbor.com. Reach her at 734-623-2584 or email her at lizzyalfs@annarbor.com. Follow her on Twitter at http://twitter.com/lizzyalfs.